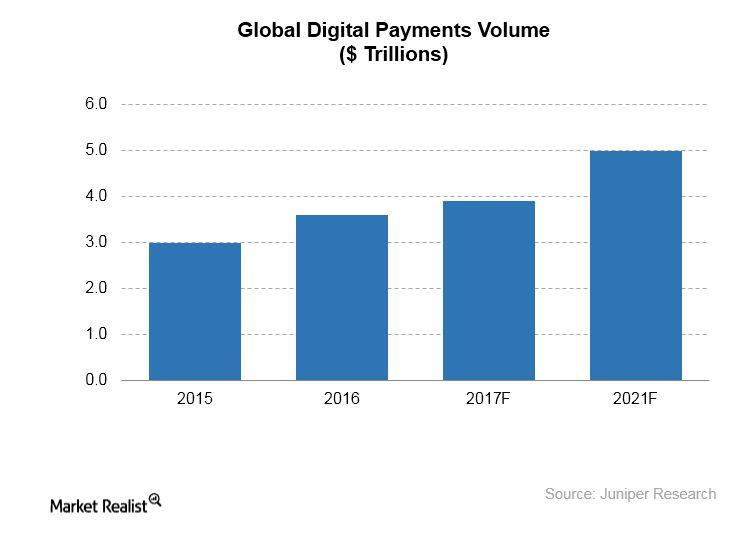 How PayPal's CEO Views the Company's Future
PayPal CEO sees a tremendous opportunity
Although investors may be unsettled by the competitive threat PayPal (PYPL) is facing from the likes of Square (SQ) and Apple (AAPL) in the digital payments market, PayPal chief executive Dan Schulman doesn't appear perturbed. He sees a bright future for the company.
In a statement accompanying PayPal's 3Q17 earnings release, Schulman remarked, "As the world rapidly accelerates to digital payments, we have a tremendous opportunity in front of us."
Article continues below advertisement
E-commerce transactions to reach $8.0 trillion in a few years
At this juncture, it may be unclear whether Schulman meant that PayPal would successfully tackle the competition to stay ahead of the pack or whether he thinks the digital payments market will be big enough to accommodate more than one winner. However, what comes out clearly from the statement is that PayPal leadership is optimistic about the future. And there's a reason for that optimism.
According to Juniper Research, global digital payments volume will reach nearly $3.9 trillion this year—up 14% over last year. Plus, the research firm forecasts that e-commerce transactions will reach $8.0 trillion by 2020—up from $4.5 trillion in 2015.
PayPal exposed to business and consumer markets
For PayPal, a digital payments processor with exposure to both merchant and consumer markets, these growth projections imply compelling revenue potential if the company can defend and expand its market share.
Square is taking on PayPal in both the merchant payment processing and peer-to-peer payments markets. Apple, with its Apple Pay and Apple Cash, is similarly challenging PayPal. Apple has taken its competition against PayPal to Europe (EFA) and Asia, including China (MCHI).