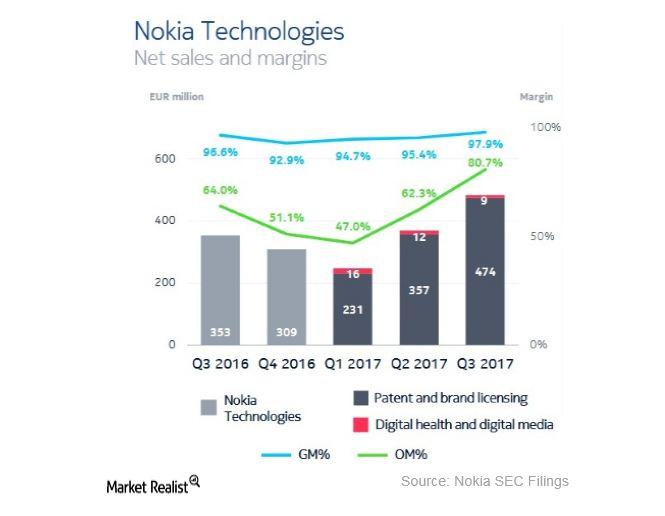 How Nokia Technologies Impacted NOK's Top Line
Group topline fell 7.0%
In 3Q17, Nokia (NOK) relied on its patent licensing business, Nokia Technologies, to offset weakness in its core Networks division.
Nokia Technologies sales rose 37% YoY (year-over-year) to 483 million euros in 3Q17. By contrast, Nokia Networks sales fell 9.0% YoY to 4.8 billion euros. The strength in the patent licensing business ensured that Nokia's revenues fell ~7.0% YoY in 3Q17. Nokia Networks is typically the largest contributor to Nokia's top line.
Article continues below advertisement
Favorable arbitration outcome
Nokia has, in recent months, taken several steps to strengthen its patent licensing business in order to contribute more to the company's overall top and bottom lines. In a statement that released with its 3Q17 earnings release, Nokia CEO (chief executive officer) Rajeev Suri stated that the company was able to reach a favorable arbitration outcome with consumer electronics maker LG in a patent licensing matter.
Suri also said that Nokia and LG have since reached a patent licensing agreement for a term beyond what was set out in the arbitration.
The push into China's technology licensing market
In June 2017, Nokia hired a former Samsung (SSNLF) executive for North America, Gregory Lee, as the chief of Nokia Technologies in its effort to strengthen its patent licensing business.
In other moves favorable to building its patent licensing unit, Nokia reached a settlement with US-based (SPY) smartphone maker Apple (AAPL) and inked a wide-ranging technology licensing deal with Xiaomi as part of its push into China's (MCHI) (FXI) technology licensing market.