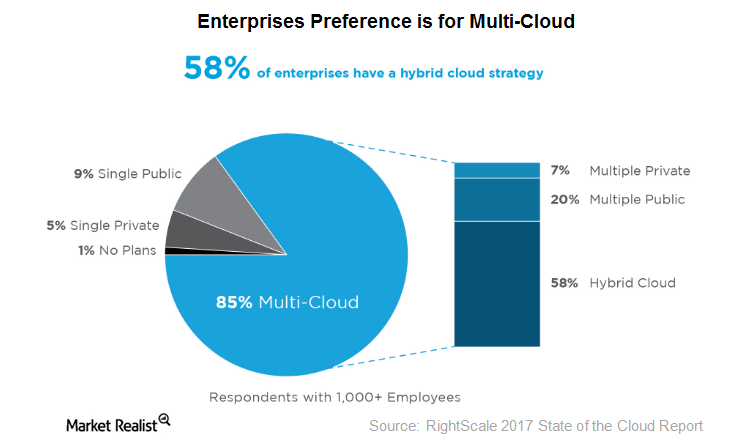 How Microsoft Aims to Capture the Hybrid Cloud with Azure
By Anne Shields

Nov. 20 2020, Updated 11:34 a.m. ET
Microsoft's focus on the hybrid cloud
Previously, we discussed Microsoft's (MSFT) Intelligent Cloud. Azure has enabled Microsoft to gain a strong foothold in the hybrid cloud space.
Within the space, where IBM (IBM) is a leader, Microsoft's focus lies on applications, infrastructure, data, and AI (artificial intelligence). Microsoft believes that the conversion of data into AI drives a company's competitive advantage. It aims to strengthen its foothold in the hybrid cloud space with Azure Stack.
Article continues below advertisement
Azure Stack, Microsoft's private and hybrid cloud offering, allows customers to enjoy the benefits of the public cloud as well as the hybrid cloud—they can buy their own hardware and run the service wherever they want. In fiscal 1Q18, US warehouse club operator Costco Wholesale (COST) chose Microsoft Azure as its hybrid cloud platform.
Hybrid cloud is increasingly preferred
The hybrid cloud is rapidly becoming the most commonly used service in collaboration with the public cloud. According to RightScale's 2017 State of the Cloud Report, 85% of respondents said their organizations have multi-cloud strategies, compared with 82% in 2016. In 2017, 58% have a hybrid cloud strategy, compared with 55% in 2016, as the above presentation shows.
This trend bodes well for Microsoft, as Azure grew the fastest among its peers—Amazon's (AMZN) AWS[1.Amazon Web Services], IBM (IBM), Alphabet's (GOOG) Google Cloud, and Oracle (ORCL)—in terms of public cloud adoption. Through Azure and Office 365, Microsoft is pitching to companies keen on adopting the hybrid cloud.