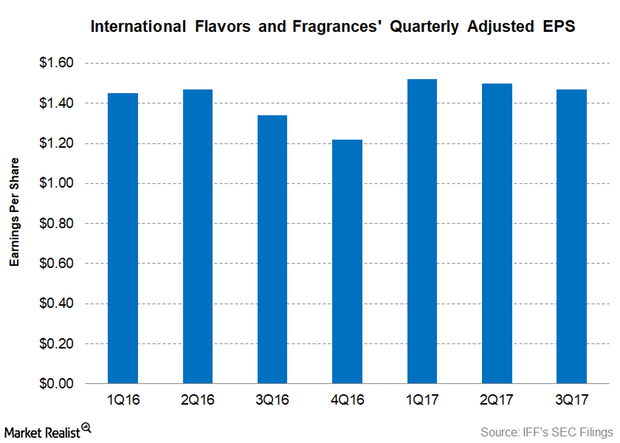 How IFF Stock Reacted to Better-than-Expected 3Q17 Earnings
International Flavors and Fragrances' 3Q17 earnings
International Flavors and Fragrances (IFF) announced its 3Q17 earnings on November 7 during market hours. In this series, we'll discuss IFF's 3Q17 earnings, revenues, reporting segments, and analyst views and recommendations.
IFF reported adjusted EPS (earnings per share) of $1.47, an increase of 9.7% on a year-over-year basis. In 3Q16, IFF's adjusted EPS came in at $1.34, which beat analysts' expectations of $1.42. The adjusted earnings per share exclude acquisition-related costs of $0.04, integration-related costs of $0.01, and restructuring charges of $0.03 per share.
Article continues below advertisement
Driving factors
The increase in IFF's adjusted earnings per share was primarily driven by higher sales and a drastic reduction in selling, general, and administrative (or SG&A) expenses as a percentage of sales. IFF reported SG&A expenses in 3Q17 at $141.5 million, representing 16.2% of sales. In 3Q16, IFF's SG&A expenses were at 19.6% of sales, a decrease of 340 basis points on a year-over-year basis. Further, the decrease in outstanding shares also helped the earnings. Although IFF didn't make any share repurchases during the quarter, the number of outstanding shares were lower than in 3Q16.
Share price reaction
Ths stock reacted positively to the earnings results. The stock rose 2.4% and closed at $149.99. On the same day, IFF's peer Sensient Technologies (SXT) fell 0.10%.
EPS guidance
IFF now expects its adjusted earnings per share for fiscal 2017 to be higher in the range of 4.5% to 5.5% over the previous year. The new guidance is higher than the earlier guidance of 4.0% to 5.0% provided during the 2Q17 earnings.
Investors looking for indirect exposure to IFF can invest in the Guggenheim S&P 500 Equal Weight Materials ETF (RTM), which invests 3.1% of its portfolio IFF. The other holdings of the fund include LyondellBasell (LYB) and Air Products and Chemicals (APD), which have weights of 3.7% each as of November 7, 2017.