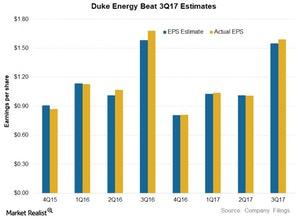 How Hurricane Irma Affected Duke Energy's 3Q17 Earnings
Duke Energy beat earnings estimates
The second-largest utility by market capitalization, Duke Energy (DUK), reported its third quarter financial results on November 3, 2017. It reported adjusted earnings of $1.59 per share for the quarter ended on September 30, 2017. In the same quarter last year, Duke reported earnings of $1.68 per share, implying a fall of 5.4% in per share earnings year-over-year. Wall Street analysts had given an earnings estimate of $1.55 per share for the reported quarter.
Duke Energy's earnings fell in the reported quarter primarily due to unfavorable weather and the lack of contribution from its international segment. Duke Energy sold its Latin American generation segment last year.
Article continues below advertisement
Earnings drivers
Duke Energy reported total revenues of $6.5 billion in 3Q17 against its revenues of $6.8 billion in the corresponding quarter last year. Duke Energy's total retail sales fell 5.4% while wholesale sales fell 3% in the reported quarter compared to the year-ago period. The company managed to increase its customer base by 1.3% in 3Q17 compared to 3Q16.
Duke Energy's total operating expenses rose 3.5% to $4.8 billion in 3Q17 compared to 3Q16. Duke Energy's electric segment reported net profit of $1.0 billion during the reported quarter against its profit of $1.2 billion in 3Q16. The fall in profits was mainly driven by unfavorable weather and lost revenues due to Hurricane Irma in 3Q17.
Duke Energy management narrowed its 2017 full-year earnings guidance range to $4.50 to $4.60 per share. The utility aims to grow its per share earnings by 4% to 6% per year through 2021, in line with the industry (XLU) (VPU) average.
Duke Energy peer Southern Company (SO) reported its third quarter results on November 1, 2017. It beat analysts' 3Q17 earnings estimates. For an earnings analysis, read What Southern Company's 3Q17 Earnings Mean for Investors.