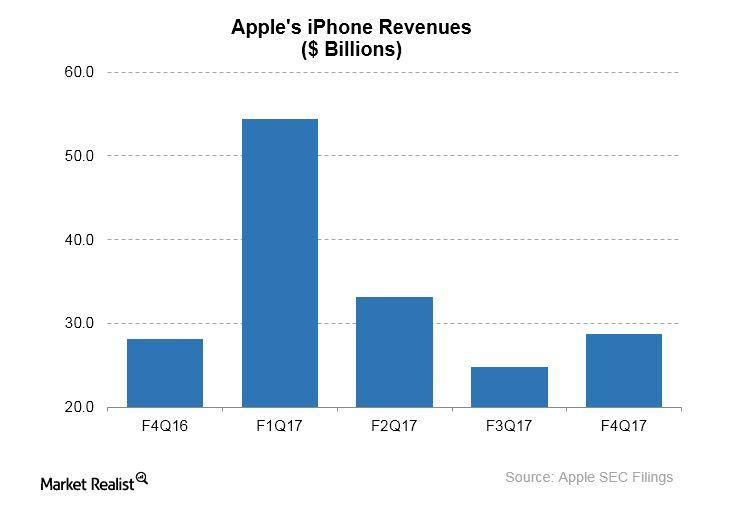 How Apple's Most Important Product Fared in 3Q17
iPhone unit sales up and above estimate
The iPhone has traditionally been Apple's (AAPL) most important product, supplying the majority of company revenues every quarter—and fiscal 4Q17 (September quarter) was no exception.
Given the position that the iPhone holds for Apple, investors tend to watch the business closely. In fiscal 4Q17, Apple sold 46.7 million iPhone units, exceeding the 41.0 million units sold in fiscal 3Q17 and 45.5 million units sold in fiscal 4Q16. In fiscal 4Q17, iPhone units sold also exceeded the 46 million units that Wall Street expected.
Article continues below advertisement
Apple facing strong competitive pressure
Apple has faced strong competition from rivals such as Samsung (SSNLF), Alphabet (GOOGL), Xiaomi, and Huawei in the smartphone market. Xiaomi, Huawei, and other China-based (MCHI) vendors have been gaining market share in the global smartphone market at a faster rate.
According to IDC, Xiaomi's shares of global smartphone shipments grew 102.6% YoY (year-over-year) in 3Q17, and Huawei's share of the market grew 16.1% YoY, compared with the 2.6% and 9.5% growth in market share by Apple and Samsung, respectively, during the same period.
Apple's taking smartphone competition in stride
But Apple's fiscal 4Q17 shows that the company is standing up to the competition in its most important industry. Apple reported $28.8 billion in iPhone revenues in fiscal 4Q17, or 2.0% higher YoY.
The company also started manufacturing iPhones in India (INDA) earlier this year, and this may have contributed to its strong unit sales during its latest quarter. The iPhone accounted for 54.9% of Apple's consolidated revenues in fiscal 4Q17, up from 54.7% in fiscal 3Q17.
Apple reported total revenues of $52.6 billion in fiscal 4Q17, or 12% higher YoY and above the consensus estimate of $50.7 billion.