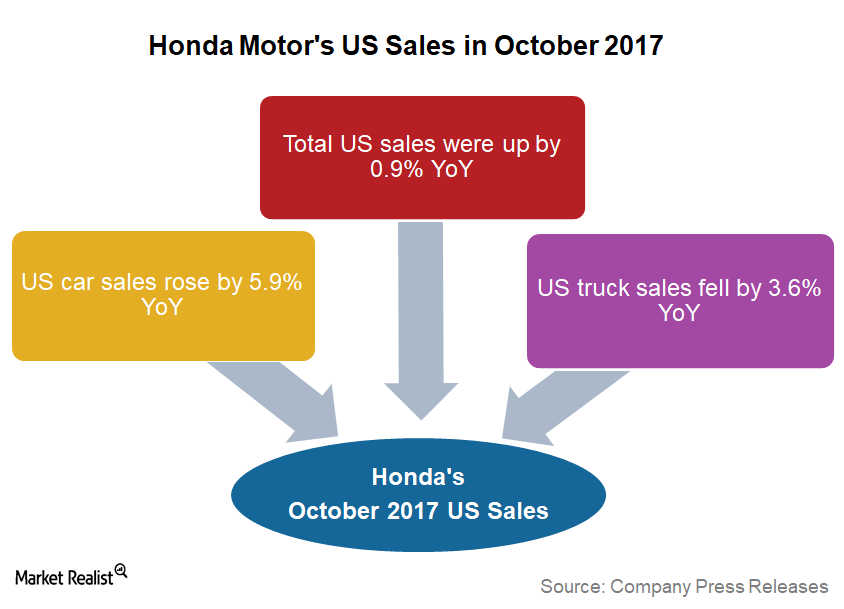 Honda's Car Sales Continue to Rise in October 2017
Honda's US sales in October
In October 2017, the American division of Honda Motor (HMC) reported a YoY (year-over-year) rise of about 0.9% in its US sales. The company sold 127,353 units in the United States last month, compared with 126,161 units in October 2016. October 2017 marked the second consecutive month in which American Honda reported a YoY rise in its sales. In September 2017, the company's US sales rose 6.8% YoY. Honda's US sales recovery in September and October could be attributed to its higher car sales.
Article continues below advertisement
Stronger car sales
In October, Honda's total US car sales volume reached 64,162 units, up 5.9% YoY. However, this figure was lower than the company's US car sales of 73,292 units in the previous month. In addition, Honda reported a 3.6% YoY fall in its October truck sales, to 63,191 units, also lower than the 69,430 units sold in the previous month.
Honda manufactures most of the cars sold in the United States locally, but also imports some from Japan. In October 2017, the company's US-manufactured car sales rose 10.4% YoY, whereas its imported car sales fell 25% YoY.
Honda's YTD US sales remain positive
Like Japanese peer Toyota Motor (TM), Honda saw its YTD (year-to-date) US sales stay in positive territory at the end of October 2017. In the first ten months of 2017, Honda sold about 1.36 million units in the United States, up 0.3% from the 1.35 million units sold during the same period of 2016.
In 2016, Honda reported a gain in its US market sales, unlike mainstream automaker peers (XLY) General Motors (GM), Ford Motor (F), and Toyota. In the next part, we'll look at what analysts are recommending for foreign automakers after their October 2017 US sales data releases.