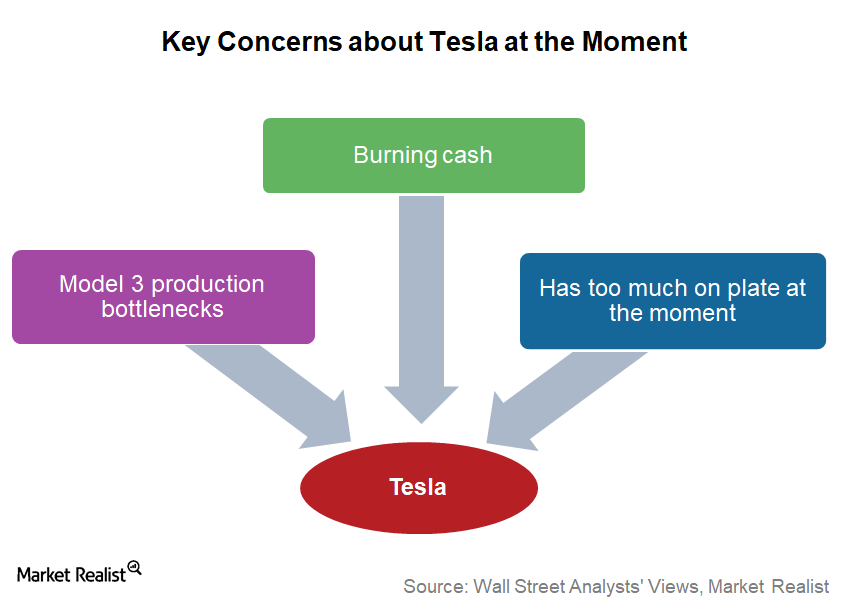 Here's How Tesla Bears Reacted to the Electric Semi Truck
Tesla stock
Since Tesla Motors (TSLA) went public in 2010, its stock has yielded positive returns every year except 2016 when it fell ~11%. So far in 2017, it has delivered positive returns of ~47.4% as of November 17, 2017. Tesla's outstanding positive returns have impressed investors and surprised many experts, but the company has also attracted sharp criticism, which continues to date.
Article continues below advertisement
Burning cash
One criticism of Tesla is that it has been burning cash at a very fast pace. It's also been accused of not focusing enough on generating profits. The bears continued to criticize the company after its recent launch of the electric semi truck and its new high-end variant of the Roadster.
According to a Reuters report, some analysts believe that Tesla might need more funds to accomplish its goal of achieving high-volume production of its Model 3 along with developing its semi truck and high-end Roadster variant.
The report stated that Philippe Houchois, a Jefferies analyst, estimates that "Tesla would need to raise $2.5 billion to $3 billion to keep production running smoothly." Houchois also suggested that Tesla's electric vehicles might yield lower returns in the long run compared to top automakers.
What other bears say
General Motors' (GM) former vice chair Bob Lutz commented on Tesla during an interview with CNBC that "at this rate they'll never get to 2019." He even called Tesla a "losing enterprise," mentioning that "there's nothing about Tesla that can't be easily duplicated by other automobile companies."
Lutz's views were no different than Sergio Marchionne's, Fiat Chrysler's (FCAU) chief executive officer, who spoke on a similar note during an interview with Car Magazine in 2016. He said, "There is nothing Tesla do that we cannot also do."
Tesla bears have criticized the company's recent moves, adding to the recent Model 3 production bottlenecks that also gave them reason to doubt Tesla. The company produced 260 units of its Model 3 in 3Q17 against expectations of 1,500 units. Production bottlenecks forced Tesla to announce a delay in its high-volume production at a time when other auto companies (XLY) were preparing to give tough competition to the Model 3.
In October 2017, Ford's chief executive officer Jim Hackett highlighted the company's focus on autonomous vehicles and electric vehicles during a strategic update session.
In the next part, we'll take a look at the good news for Tesla's electric semi truck.