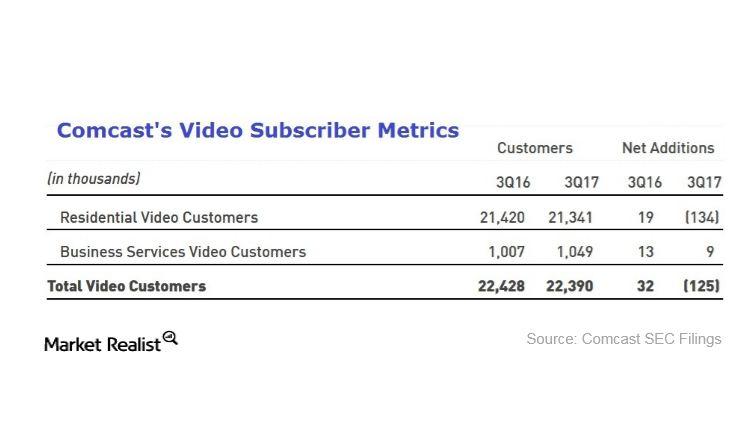 Here's Why Comcast's Video Revenue Rose despite Subscriber Loss
Video contributed 44% of cable revenue
Although Comcast's (CMCSA) consolidated 3Q17 revenue fell 1.6% year-over-year on a reported basis and missed the consensus estimate by $60 million, its pay-TV business was one of the company's bright spots in the quarter.
Comcast reported video (pay-TV) revenue of ~$5.8 billion, implying a rise of 4.2% year-over-year. Video contributed 44.1% to Comcast's Cable Communications division revenue in 3Q17.
Article continues below advertisement
Video revenue increased despite loss of customers
Interestingly, Comcast's video revenue rose in 3Q17 despite a loss of thousands of pay-TV subscribers during the quarter. It reported a net loss of 125,000 pay-TV customers. Its pay-TV rival Charter Communications (CHTR) lost 104,000 video customers in 3Q17.
How Did Comcast generate more video revenue from fewer video customers in 3Q17? According to the company, adjusting its video prices saved the day for its video business. The increase in video revenue was also supported by pay-per-view revenue associated with a boxing event during the latest quarter. We'll have to wait and see if Comcast can continue to drive video revenues through price adjustments.
Pay-TV companies are bleeding from cord-cutting
Traditional pay-TV companies, including Comcast, Charter, and AT&T (T), have been losing subscribers under what is called cord-cutting, where households drop bundled pay-TV packages for cheaper, slimmer television services delivered over the Internet.
Netflix (NFLX), a leading streaming video provider, reported gaining 5.3 million new subscribers in 3Q17, largely at the expense of pay-TV companies. In addition to its domestic US market (SPY), Netflix has millions of international customers in markets such as the United Kingdom (EWU) and India (INDA).