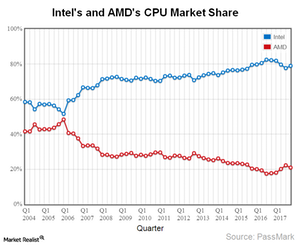 How Would a GPU Partnership with Intel Benefit AMD?
AMD reacts to Intel's high-end graphics initiative
Intel's (INTC) announcement of its high-end graphics initiative saw Advanced Micro Devices' (AMD) investors react both positively and negatively. When the partnership was announced, AMD investors became optimistic, but they soon turned pessimistic when Intel announced the appointment of AMD's GPU (graphics processing unit) head, Raja Koduri.
Responding to the appointment news, AMD stated that the company has a strong GPU team that will continue to build competitive products. Moreover, the company has industry-leading graphics IP (intellectual property) and would protect it vigorously if the need arises.
Article continues below advertisement
AMD's statement was not quite reassuring to investors, however, as the stock fell 7.7% during the two days following the announcement. Raja Koduri's move to Intel comes as a blow to AMD as its Vega GPU has not been as successful as its Pascal GPU. Vega GPU consumes high energy and delivers performance similar to NVIDIA's (NVDA) year-old GTX 1080 GPU.
The impact of Intel's GPU partnership on AMD 
Intel dominates the PC (personal computer) processor market with a ~75% share. The use of AMD's GPUs inside Intel's processors would likely help the former expand its GPU customer base beyond PC OEMs (original equipment manufacturers) and into chipsets. This would likely increase AMD's overall GPU market share.
Intel could possibly be AMD's first client for semi-custom APUs (application processing units) outside game consoles, which it has been talking about for over a year. While this may churn out revenue for AMD in the GPU space, it may increase competition in the CPU (central processing unit) space.
AMD launches Ryzen Mobile
AMD has launched its first mobile PC chips on the Ryzen microarchitecture, the Ryzen 7 2700U and the Ryzen 5 2500U, which combine Ryzen CPU and Vega GPU. AMD claims that Ryzen Mobile chips are 3x faster than its predecessor APU and delivers 128% better GPU performance while consuming 58% less power.
These APUs are meant for a limited range of ultra-thin laptops that are 14 mm (millimeter) thick and consume 15 watts of power. The Ryzen Mobile wouldn't likely appear on all gaming laptops, nor would it appear in Apple's (AAPL) MacBook. The Ryzen Mobile would initially launch in limited laptops from Acer, HP Inc. (HPQ), and Lenovo.
The AMD Ryzen 7 2700U would feature four cores and ten graphics computing units, while the Ryzen 5 2500U would feature four cores and eight graphics computing units. These chips would support 4K streaming and Freesync monitors.
AMD has clarified that Intel's mobile PC platform with integrated discrete GPUs would not compete with its Ryzen Mobile APUs, because Intel's chips would mainly target the gaming segment, while AMD's chips would target the generic segment.
Does this mean AMD is closing its future growth opportunities in the gaming laptop space? We'll discuss this further in the next part.