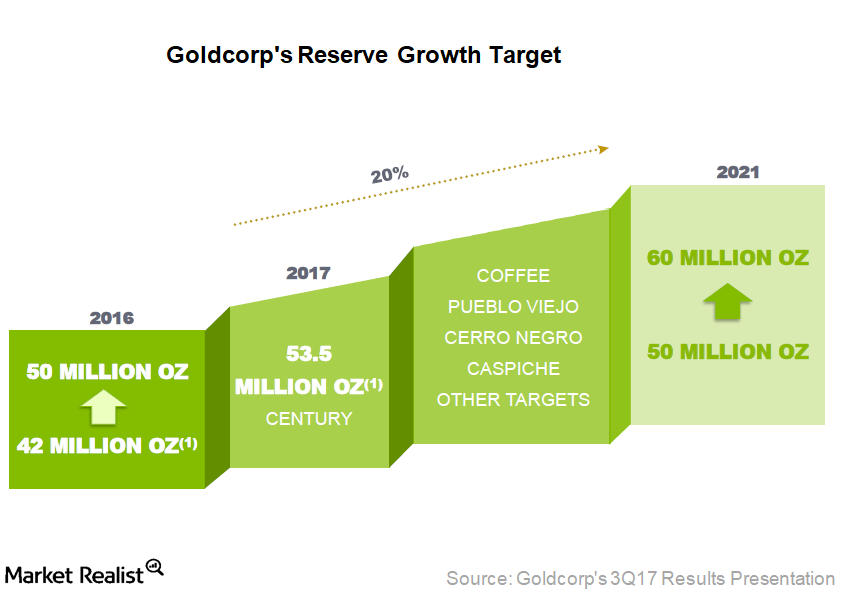 Goldcorp's Impressive Reserves Growth: What's Driving It?
Gold reserves growth
Goldcorp (GG) registered a growth of 26% YoY (year-over-year) in its proved and probable mineral reserves. Its reserves increased to 53.5 million ounces. The increase is mainly attributable to the successful conversion of 4.7 million ounces into mineral reserves at Century and the acquisition (net of non-core divestitures) of 8.4 million ounces of gold mineral reserves.
Goldcorp completed its base case pre-feasibility study at Century. That helped the company convert 4.7 million ounces into reserves. It has also integrated 1.0 million ounces in reserves from the Pamour pit into the Century project. The creation of the Chilean joint venture between Goldcorp and Barrick Gold (ABX) led to an addition of 8.4 million ounces.
Article continues below advertisement
Targeted reserve growth
During the company's 3Q17 earnings call, its senior vice president of exploration, Paul Harbridge, said that exploration success at many of its sites is due to its systematic approach to exploration. He also said it expects to contribute to its target of 60.0 million ounces of gold reserves by 2021. The company is now a third of the way to its targeted reserves by 2021.
Goldcorp's resource conversion into reserves outpaced its mine depletion YoY. To continue its successful conversion of resources to reserves, the company's exploration strategy for the coming year could continue to focus on brownfield targets that are close to its existing camps.
Other miners' reserves
While Goldcorp reported higher reserves, gold miners have been reporting lower reserves lately. Barrick Gold (ABX), for example, reported a 6.5% fall in its 2016 reserves, which came in at 85 million ounces. Newmont Mining (NEM) also reported a fall in its reserve estimates in 2015 to 73.7 million ounces, a 10% reduction from 2014.
Yamana Gold (AUY) reported a 19% fall in its reserves between 2014 and 2015 to 15.9 million ounces. Kinross Gold's (KGC) reserves were 34 million ounces at the end of 2015, which was almost flat compared to 34.4 million ounces reported at the end of 2014.