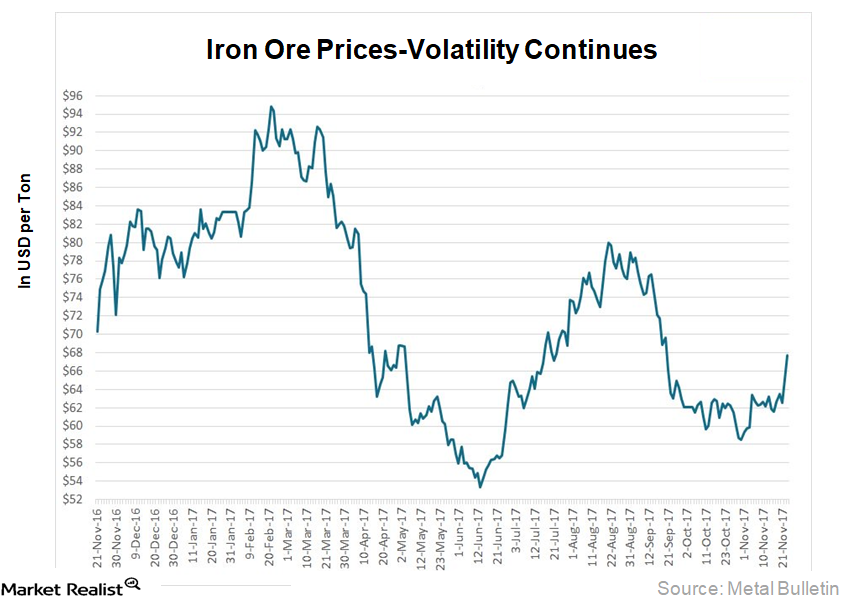 Here We Go Again: More Upside for Iron Ore Prices?
Iron ore prices: Here they go again
We can easily call the journey for iron ore prices so far this year "tumultuous." Prices hit a peak of $95 per ton in February 2017 only to fall to lows of $53 per ton in July before taking off again. The new bout of weakness hit in September 2017, when prices fell 18% in a single week on fears of China's steel capacity cuts during winter. Prices have once again surged, climbing ~8% for the week ended November 24 and 16% in this month so far. The latest round of bullishness is due to elevated Chinese steel prices. While Chinese authorities have successfully cut steel capacity, demand remains firm, which is supporting higher steel prices and, in turn, backing higher iron ore prices. Currently, steel prices are close to a six-year high.
Article continues below advertisement
Demand for imported ore rising
One other factor supporting higher seaborne iron ore prices is increased demand for imported ore from Chinese mills. Low-grade, high-impurity ore leads to higher pollution. Chinese authorities are trying to curb this threat as winter sets in. Imported ore, particularly from iron ore giants (PICK) such as BHP (BHP), Vale (VALE), and Rio Tinto (RIO), is higher-grade, meaning lower pollution, which is why—despite capacity cuts—demand for imported ore has risen, replacing domestically mined ore. Domestic Chinese iron ore is very low in iron ore content and high in impurities.
As a result, this trend led to a widening differential between the benchmark ore (62% content) prices and sub-62% iron ore prices.
Differential and impact on miners
The price differential favors the miners we mentioned above while the miners producing sub-62% ore are attracting discounts on their products. Cleveland-Cliffs's (CLF) Asia-Pacific segment and Fortescue Metals Group (FSUGY) are two miners suffering under discounts due to this increased differential.
In this series, we'll explore the likely course iron ore prices could take. We'll also look at the forward-looking and coincident indicators for iron ore.