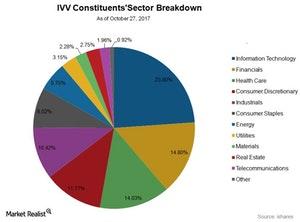 A Glance at the iShares Core S&P 500 ETF
About the ETF
The iShares Core S&P 500 ETF (IVV) seeks to track the investment results of the market cap–weighted S&P 500 index (SPY)(SPX-Index). This ETF has been performing well lately. Let's find out why.
The S&P 500 Index comprises large- and mid-cap US stocks. It includes around 80% of the market capitalization of all publicly traded US equity securities. The index holds some important stocks from various sectors. The information technology, financials (XLF), healthcare (XLV), and consumer discretionary sectors (XLY) make up around 65% of the fund's constituents, as the chart below shows.
The iShares S&P 500 ETF was first introduced in May 2000, and it offers investors exposure to large and established US companies. These dividend-paying mature companies with relatively stable growth are part of different sectors.
Article continues below advertisement
Various industries make up the index, and diversification is key
The S&P 500 Index invests in stocks belonging to different sectors. Investors get exposure to a diversified set of stocks in the US equities market, which are part of:
cyclical sectors like basic materials, consumer cyclical, financial services, and real estate, holding 32% of the fund [Source: Morningstar as of October 12, 2017]
sensitive sectors like communication services, energy, industrials, and technology, holding 41% of the fund
defensive sectors like consumer defensive, healthcare, and utilities, holding 26% of the fund
The iShares S&P 500 ETF (IVV) offers balanced exposure to profitable fast-growing stocks in various sectors.
Scroll down to learn what differentiates IVV from other ETFs tracking the benchmark index in the next part of this series.