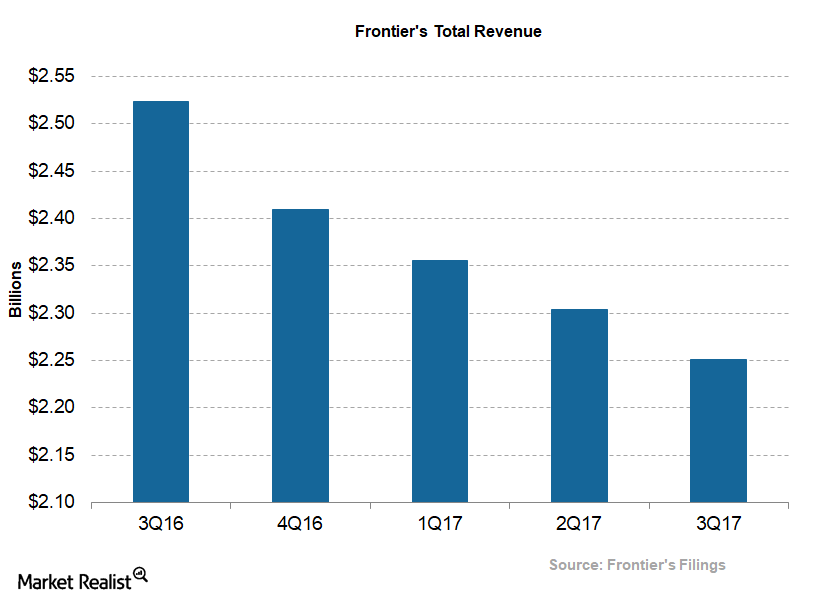 Why Frontier's Revenue Fell in 3Q17
Frontier's revenue trend
In the previous part of this series, we saw that Frontier Communications' (FTR) earnings fell YoY (year-over-year) during 3Q17. In this part, let's take a look at Frontier's performance in terms of its top line over the last few quarters. Frontier generated total revenue of ~$2.3 billion in 3Q17, a fall of ~10.8% on a YoY basis and a fall of ~2.3% on a sequential basis, but in line with the consensus estimate.
Voice services revenue fell ~13.2% YoY to $702 million, whereas data and Internet services revenue fell ~8.5% YoY to $956 million. Video services revenue fell ~18.9% YoY to $318 million in 3Q17.
Article continues below advertisement
Decline in Frontier's revenue in 3Q17
In 3Q17, Frontier's total revenue fell $53 million sequentially. However, the telecom (telecommunications) company continued the trend of sequential improvement in CTF (California, Texas, and Florida) revenue in 3Q17. In 3Q17, it reported consumer revenue of $1.1 billion, which includes Frontier Legacy and CTF operations. In 3Q17, its consumer revenue fell $22 million sequentially. Of the $22 million decline, $9 million was associated with Legacy, and $13 million was associated with CTF. Revenues for the company's commercial business were $958 million, which was roughly stable with 2Q17 after adjusting for the sale of the Frontier Secure strategic partnerships business.
Sequentially in 3Q17, Frontier's Legacy customer revenue fell ~2.9%, while its CTF customer revenue fell ~1.4%.
Frontier's management highlighted commitments to improve customer and revenue trends going forward. The company considers video services a future growth driver. It expects a procurement of Verizon's (VZ) CTF wireline properties in April 2016 to boost its video service proposition. Additionally, by procuring AT&T's (T) Connecticut wireline properties in October 2014, Frontier managed to gain additional video users.
In the next part, we'll look at Frontier's adjusted EBITDA (earnings before interest, tax, depreciation, and amortization).