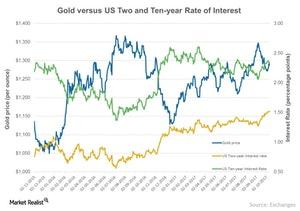 Could the Federal Reserve Decision Move Precious Metals?
Inflation hedge
Precious metal market participants will be closely watching the economic numbers that come out of the US, especially those that give an indication of the country's inflation level. The minutes from the Federal Reserve meeting that were released last week highlighted the concerns of a few Fed members regarding inflation. Gold is known as a hedge against inflation. If inflation rises, there is a higher chance that gold could also rise at the same time.
Though a December interest rate hike seems to be in the cards, the pace of future hikes is also important. Precious metals as we know are non-yield-bearing assets that react negatively to the rise in interest rates.
Article continues below advertisement
Funds and miners
The above chart shows the performance of gold (IAU) (SLV) against the US two-year and ten-year rate of interest (SHY) (IEF).
Also, the appointment of a new Federal Reserve chair could have a potential impact on precious metals, though it might be a rather temporary one. Also, US President Donald Trump will be meeting the Senate Republicans to discuss tax reform legislation.
The impact on precious metals could also be felt by precious metal mining companies like Kinross Gold (KGC), New Gold (NGD), IAMGOLD (IAG), and Pan American Silver (PAAS).