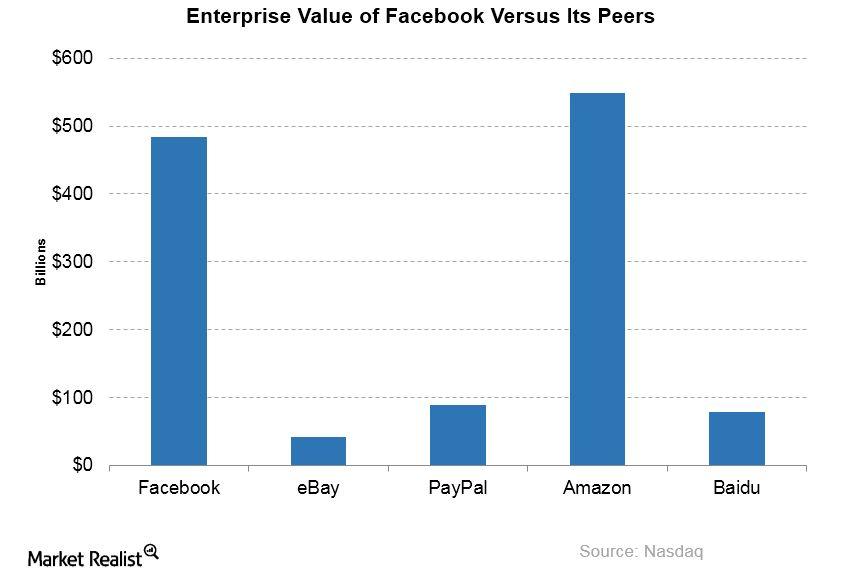 Facebook's Valuation after 3Q17
A look at Facebook's enterprise value and related multiple
Facebook's EV-to-adjusted-EBITDA (enterprise value to adjusted earnings before interest, tax, depreciation, and amortization) multiple for the trailing 12 months is 23.9x. Its EV-to-estimated-EBITDA multiple is 18.9x, and its EBITDA margin for 2017 is 55%.
Facebook's EV-to-sales for the trailing 12 months is 13.3x, while its EV-to-sales expected in 2018 is 9.07x.
Its trailing 12-month EV-to-cash flow and trailing 12-month EV-to-free-cash flow are 22.5x and 30.7x, respectively.
Article continues below advertisement
Inside Facebook's price metrics
With a book value per share of $24.5x, Facebook is trading at a price-to-book value of 7.3x. The estimated book value per share for the stock is $26.04.
The ratio of price-to-sales for Facebook is 14.3x, while the estimated price-to-sales is 12.9x for 2018.
Earnings and sales
The company reported EPS (earnings per share) of $3.60 in 2017, while EPS for 2018 is forecast to be $5.90.
EPS for 2017 came on total sales of $36.5 billion, which rose 48% annually. Sales for 2018 are expected to expand to $53.3 billion.
Article continues below advertisement
EBIT-on-interest coverage ratio
If Facebook had any debt, it would be interesting to see if it could pay the interest. The answer lies in examining the company's EBIT-on-interest ratio, also called interest coverage ratio, which in this case is 1,242.7x.
EBITDA measures on focus
Facebook's EBITDA of $20.2 billion for 2017 fell 29% and is expected to decline at the rate of 19% in 2018.
The stock is trading at a price-to-EBITDA ratio of 25.9x. In comparison, peers eBay, PayPal, Amazon, and Baidu are trading at price-to-EBITDA ratios of 12.7x, 36.6x, 40.6x, and 25.3x, respectively.