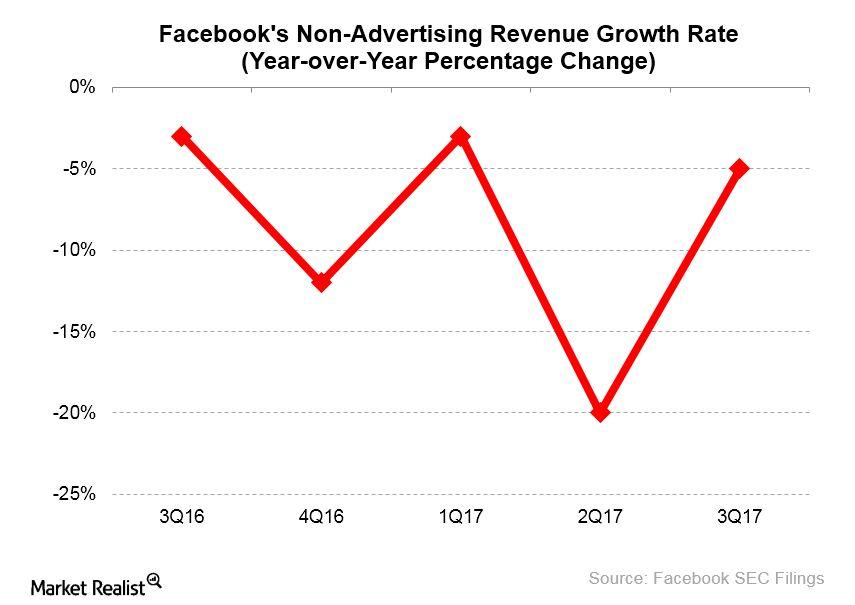 Is Facebook's Revenue Diversification Working?
Non-advertising revenues fell 5%
Facebook's (FB) reliance on advertising for 98.1% of its overall revenue in 3Q17 was a result of two developments during the quarter. First, it generated most of its revenue from advertising in 3Q17 because advertising sales grew during the quarter. The company said its advertising revenue increased 49% YoY (year-over-year) in 3Q17.
Second, Facebook relied on advertising for most of its revenue in 3Q17 because its non-advertising business actually shrank in the quarter. Facebook said its non-advertising revenue, reported as payments and other fees, fell 5% YoY.
Article continues below advertisement
Twitter's non-advertising revenues increased 22%
Facebook's non-advertising business has been on a downward trajectory recently. Payments and other fees revenue fell 20% YoY in 2Q17, 3% in 1Q17, 12% in 4Q17, and 3% in 3Q17.
In contrast, in 3Q17, Alphabet's (GOOGL) non-advertising business rose 41% YoY, and Twitter's (TWTR) rose 22% YoY.
In addition to payments and transaction fees, sales of hardware products such as Oculus virtual reality headsets also contribute to Facebook's non-advertising revenue basket. Alphabet and Snap (SNAP) also look to sales of hardware products for a portion of their non-advertising revenues. Twitter, on the other hand, generates its non-advertising revenues primarily from data licensing.
A complicated situation
With its non-advertising business shrinking, Facebook has been left to rely on advertising sales for its top-line growth. But that creates a complicated situation for the company and its investors since revenue diversification has become important amid growing competition for online advertising budgets. AT&T (T) and Verizon (VZ), for instance, are growing their digital media presence and consequently threatening to give online advertising incumbents such as Facebook a serious run for their money.