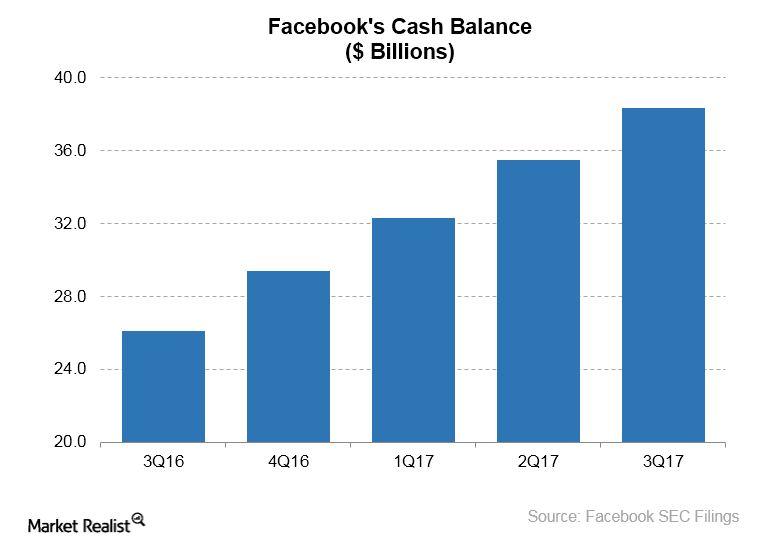 How Facebook's Balance Sheet Looks after 3Q17
Debt-free balance sheet
Facebook (FB) continued to maintain a strong balance sheet in 3Q17. As the case has been in at least the last five quarters, no debt was found on Facebook's balance sheet at the end of 3Q17. In contrast, the balance sheets of Alphabet (GOOGL) and Twitter (TWTR) reflected debts of $4 billion and $1.8 billion, respectively, at the end of 3Q17.
While companies can borrow to meet financial needs that can't wait or to invest in more growth, debt can also increase costs in the form of interest expenses.
Article continues below advertisement
Facebook's cash balance grew $2.8 billion
Facebook's total assets increased to $79 billion in 3Q17 compared with $73.8 billion at the end of 2Q17. Its assets were $59.7 billion a year ago.
Facebook's rising cash holdings were partially responsible for the increase in assets in the latest quarter. The company finished 3Q17 with $38.3 billion in cash balance compared with $35.5 billion in the previous quarter. With that, Facebook's cash balance increased by $2.8 billion in three months.
In the same three-month period, Alphabet's cash balance increased $5.6 billion, Twitter's increased $200 million, Yelp's (YELP) increased $47 million, and Snap's (SNAP) fell $500 million.
Financial flexibility
Facebook's cash balance has been increasing quarter-by-quarter for at least five quarters. The rising cash balance could be viewed as providing financial flexibility for Facebook to continue investing in more growth and the securing of the safety and integrity of its platforms and brands.