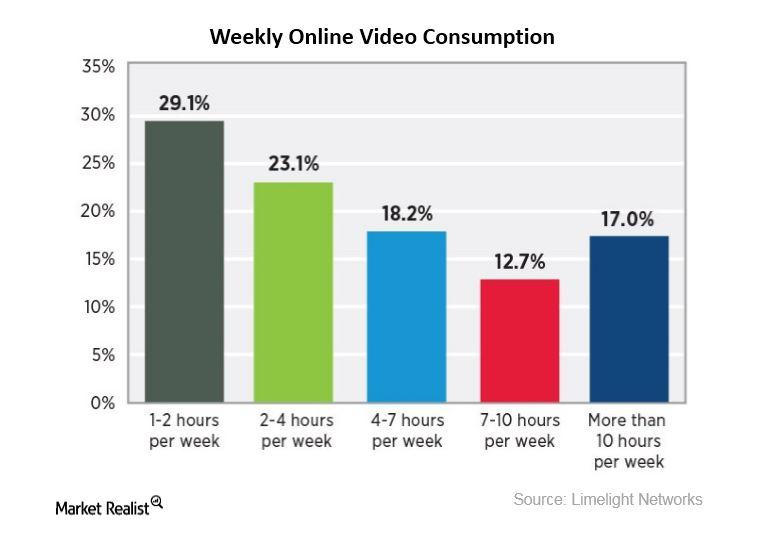 Why Facebook Joined AOMedia
Facebook joins work on new video format
Facebook (FB) recently joined AOMedia (Alliance for Open Media) as a founding member. Other AOMedia members include Amazon (AMZN), Netflix (NFLX), Alphabet's (GOOGL) Google, and Microsoft (MSFT). AOMedia is working on developing a new video compression technology called AV1, which is expected to make uploading and streaming online videos easier and cheaper.
Mike Coward, engineering director at Facebook, said, "As the amount of video being watched and shared online continues to grow, we are committed to making the video experience even better. By joining the Alliance for Open Media at the highest level, Facebook can directly participate in the advancement of technologies to help achieve this mission."
Article continues below advertisement
Royalty-free video compression technology
Although a variety of video compression technologies already exist, their adoption has been limited due to costs tied to patent licensing. AOMedia is striving to deliver a royalty-free, interoperable video format.
Online video viewing time is on the rise globally. According to a new study by Limelight Networks, the global average online video viewing time has risen to 5.75 hours per week, from 4.28 hours per week in 2016. About a third (or 29.1%) of respondents said they watch one to two hours of online videos per week.
Improving online video experience
As Facebook steps up its push into the online video business, it could make sense for it to team up with like-minded companies to improve the online video viewing experience. Video is expected to play a major role in driving Facebook's future revenue growth as the company shifts to an advertising monetization model tied closely to audience size and engagement.
Amazon, Netflix, and Google (YouTube) are already big players in the online video market. Netflix, for instance, finished 3Q17 with 109.3 million subscribers on its streaming video service. Google and Microsoft are makers of widely used mobile and computer operating systems.