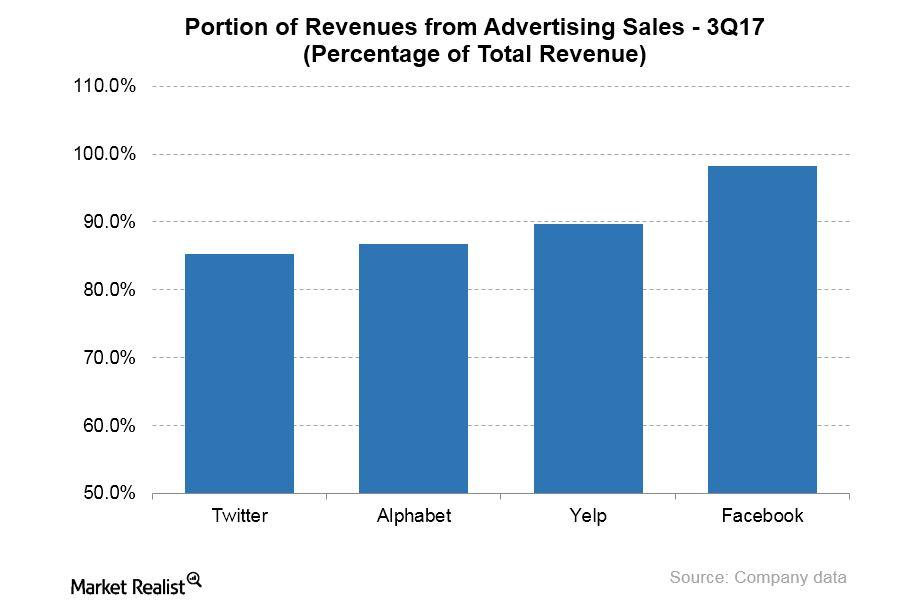 Facebook and Its Heavy Reliance on Advertising
Advertising sales contributed 98% of Facebook's revenue
Advertising has traditionally been Facebook's (FB) primary source of revenue. The company relied more on advertising in 3Q17 than it did in 3Q16. Advertising accounted for 98.1% of Facebook's total revenue in 3Q17. In 3Q16, advertising sales accounted for 97.1% of its revenues.
On a sequential basis, Facebook relied less on advertising sales in 3Q17 than in 2Q17. Advertising sales contributed 98.9% of Facebook's total revenue in 2Q17. In 1Q17, advertising accounted for 98.8% of total revenue, and in 4Q17, it was 97.7%.
Article continues below advertisement
Facebook and Snap beat peers for reliance on ad budgets
Advertising sales accounted for 86.7% of Alphabet's (GOOGL) total revenue in 3Q17. Twitter (TWTR), Snap (SNAP), and Yelp (YELP) extracted 85.3%, 98.1%, and 89.7% of their total revenues from advertising, respectively, in 3Q17.
Facebook and Snap relied on advertising budgets the most for revenues in 3Q17.
Concern over heavy reliance on ad budgets
According to market intelligence firm eMarketer, the global Internet advertising market will grow to $335 billion by 2020, from $223.7 billion this year and $194.6 billion in 2016. As much as this forecast predicts a continued healthy growth rate of the online advertising industry, many no longer view continued heavy reliance on advertising budgets as healthy for ad-funded companies such as Facebook and Alphabet. That's partly due to escalating competition for online advertising budgets, which could slow down the growth of companies that are heavily dependent on advertising sales.