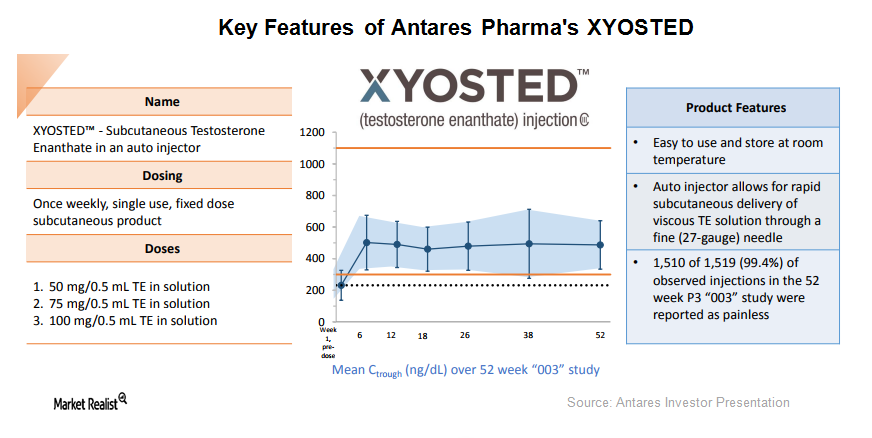 Exploring Antares Pharma's Current Pipeline of Products
Xyosted
Antares Pharma (ATRS) filed a New Drug Application (or NDA) with the FDA in December 2016 for Xyosted injection as testosterone replacement therapy. This NDA submission was accepted for standard review by the FDA and assigned a Prescription Drug User Fee Act (or PDUFA) target date of October 20, 2017.
The company had conducted a multicenter Phase 3 clinical study, and it announced positive top-line results.
On October 11, 2017, Antares Pharma (ATRS) was notified by the FDA that it had found deficiencies in Xyosted, which precluded its post-marketing discussions for the product.
On October 20, 2017, ATRS received a Complete Response Letter (or CRL) from the FDA, indicating that the FDA could not approve the NDA in its present form.
The FDA is concerned that Xyosted could cause a clinically meaningful increase in blood pressure and occurrence of depression and suicidality.
Antares Pharma had been actively planning and preparing for the commercial launch of Xyosted. The company planned to hire seven regional sales managers and 60 specialty account representatives to effectively garner market share, assuming FDA approval.
Article continues below advertisement
Other research programs
Antares Pharma (ATRS) is working with Teva Pharmaceutical on a Bibex autoinjector pen containing epinephrine, which is used for the treatment of severe allergic reactions. In February 2016, Teva Pharmaceutical received a CRL from the FDA in which the FDA identified certain major deficiencies. Teva Pharmaceutical is now targeting a launch in early 2018.
Two other products in development are multidose pens for a generic of Byetta and Forteo for the treatment of diabetes and osteoporosis, respectively. The company is developing Forteo in collaboration with Teva Pharmaceutical.
In 2016, Teva Pharmaceutical settled its patent litigation with AstraZeneca relating to its drug Byetta. The settlement allows Teva to commercialize the generic version of Byetta in the US beginning on October 15, 2017.
With this pipeline, Antares Pharma is well positioned to compete with peers, including Pfizer (PFE), which is developing Ertugliflozin for Type 2 diabetes in collaboration with Merck (MRK). While the Bibex autoinjector helps Antares Pharma compete with Mylan's (MYL) generic EpiPen injection.
Antares Pharma makes up about 0.47% of the SPDR S&P Healthcare Equipment ETF's (XHE) total portfolio holdings.
In the next part of this series, we'll look at the other products in Antares Pharma's pipeline of products and its strategy to strengthen its cash reserves.