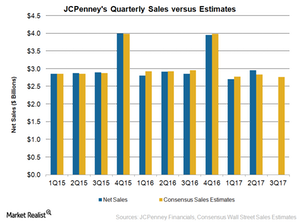 What to Expect from JCPenney's Sales in 3Q17
Fiscal 3Q17 results
Mid-tier department store chain JCPenney (JCP) is scheduled to announce its fiscal 3Q17 results on November 10. The company's sales grew 1.5% in fiscal 2Q17, which ended on July 29, 2017. This growth came in after three consecutive quarters of lower sales.
However, analysts expect the company's sales for fiscal 3Q17, which ended on October 28, 2017, to decline on a year-over-year basis. Analysts expect JCPenney's fiscal 3Q17 sales to fall ~3.2% to $2.8 billion. Analysts expect sales of rival Kohl's (KSS) to fall 0.7% to $4.3 billion in fiscal 3Q17.
Article continues below advertisement
Improvement in fiscal 2Q17
In fiscal 2Q17, JCPenney's (JCP) sales growth was driven by merchandise categories like home, fine jewelry, footwear and handbags, and Sephora beauty stores. The company's sales growth in fiscal 2Q17 was an improvement compared to a 3.7% fall in its fiscal 1Q17 sales. Its sales were on par with the 1.5% sales growth in fiscal 2Q16.
JCPenney's same-store sales declined 1.3% in fiscal 2Q17. JCPenney's same-store sales have declined for the past four consecutive quarters.
Same-store sales growth (or SSSG) is an important metric for retailers, which indicates the change in sales of the existing stores of a retailer over a certain period. SSSG ignores the impact of new stores opened or stores closed during that period.
JCP's expectations
Based on the update provided on October 27, the company expects its same-store sales in fiscal 3Q17 to grow 0.6%–0.8% on a year-over-year basis. JCPenney's decision to liquidate slow-moving inventory primarily in women's and other apparel categories through clearance sales could benefit its fiscal 3Q17 sales.
JCPenney expects its fiscal 2017 same-store sales growth to range from -1.0% to 0.0%.
We'll discuss the company's margins in the next part of this series.