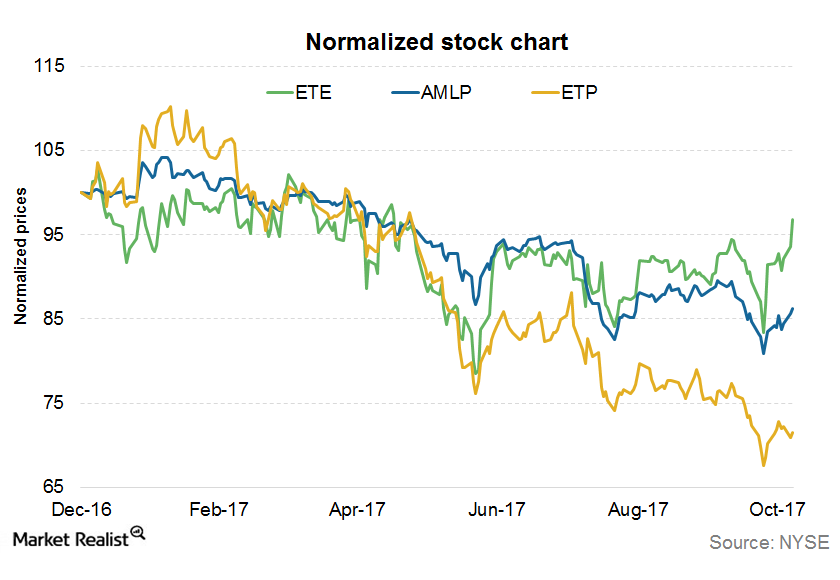 ETE's and ETP's Price Forecast after 3Q17 Earnings
Market performance
In this article, we'll look at Energy Transfer Equity's (ETE) and Energy Transfer Partners' (ETP) price forecast after the 3Q17 earnings announcement. But first, let's analyze their recent market performance. ETE and ETP and expected to receive a positive reaction from investors due to strong 3Q17 operating performance. At the same time, a rise in partnerships' borrowing remains a concern. We'll look more into this concern in the next part of this series.
ETE's and ETP's stocks have been quite volatile over the recent trading sessions. ETP recently saw a new 52-week low of $16.4 while ETE saw a four-month low of $16.1. However, ETE has recovered significantly since then, driven by a strong rally in crude oil prices.
Overall, ETE and ETP have lost 3.2% and 27.8% since the beginning of this year. At the same time, the Alerian MLP ETF (AMLP) has fallen 12.7%. ETE is outperforming AMLP by 950 basis points. However, they're both underperforming the SPDR S&P 500 ETF (SPY)(SPX-INDEX) in 2017 to date.
Article continues below advertisement
Moving averages
ETE recently rose above both its short-term (50-day) and long-term (200-day) moving average. ETE was trading 6.2% above its 50-day SMA (simple moving average) and 4.3% above its 200-day SMA as of November 7, which indicates bullish sentiment in the stock.
At the same time, ETP is still trading below the short-term and long-term moving averages. ETP was trading 5.4% and 19.7% below the respective historical averages. This difference might indicate bearish sentiment in ETP. However, strong 3Q17 earnings, the recent rally in crude oil prices, and a recovery in drilling activity could push ETP above its short-term moving average, resulting in bullish sentiment.
Price forecasts
Energy Transfer Equity's and Energy Transfer Partners' 30-day implied volatility was 37.2% and 32.4%, respectively, as of November 7. Based on their respective implied volatiles, ETE and ETP might trade in the range of $17.74–$19.66 and $16.56-$18.13, respectively, in the next seven days. The two publicly traded partnerships are expected to trade within this range with a 68.0% probability, assuming a standard deviation of one and a normal distribution of prices.