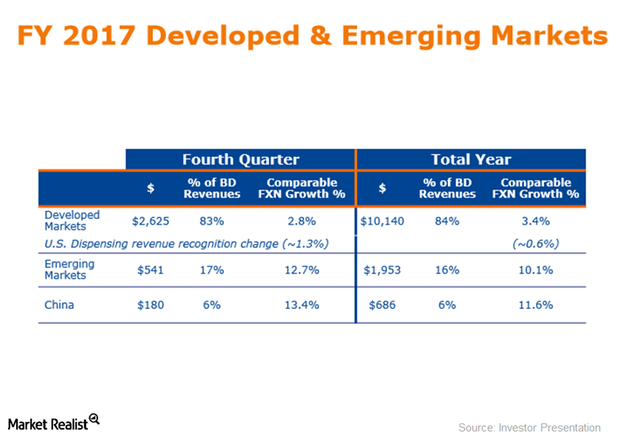 How Emerging Markets Continue to be the Key Growth Driver for BD
Overview
BD (BDX) has significantly diversified operations around the world. It has a diverse base in emerging markets such as Eastern Europe, Latin America, Africa, the Middle East, and certain Asia-Pacific countries. The company is focused on expanding its operations in these high-growth markets and is undertaking strategic initiatives in this regard. It is mainly focused on India and China, which provide immense untapped growth opportunities. Other major medical technology companies expanding in these regions include Abbott Laboratories (ABT), Medtronic (MDT), and Baxter International (BAX).
In 4Q17, BD reported YoY (year-over-year) US sales growth of ~2.1% on a constant-currency basis, and international sales growth of ~6.9%. In comparison, in fiscal 2017, BD's international sales grew ~6.2%.
Article continues below advertisement
BD's emerging market performance
In 4Q17, emerging market sales grew ~12.7% on a constant-currency basis. In fiscal 2017, emerging markets registered sales of ~$2.0 billion, representing growth of ~10.1%. China registered growth of ~11.6%. The strong growth was driven by both BD businesses, BD Medical and BD Life Sciences. Greater Asia registered double-digit growth in 4Q17, while Latin America saw high-single-digit growth. The strength of the diabetes care business in emerging markets continued to drive revenue, and the dispensing business contributed to the company's medication management solution sales in emerging markets.
Future growth estimates and expectations
BD expects its strong emerging market business growth to be a key driving factor for the company's performance ahead. The company expects high-single-digit growth in emerging markets, with China seeing low-double-digit growth. Latin America is also expected to maintain its growth momentum. Investors could consider the iShares Russell 1000 Growth ETF (IWF) for exposure to BD, which comprises ~0.40% of IWF's portfolio.