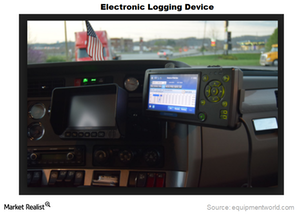 How the Electronic Logging Device Mandate Could Affect Truckers
By Samuel Prince

Nov. 30 2017, Updated 3:20 p.m. ET
Electronic Logging Device
The FMCSA (Federal Motor Carrier Safety Administration) recently came up with the concept of an ELD (electronic logging device). The ELD is a device that is intended to facilitate a safer work environment for drivers. The gadget offers easier, faster, and more accurate tracking of commercial truck drivers' data. The FMCSA published the ELD final rule in December 2015. Commercial vehicle drivers are required to install the ELDs in their vehicles by December 18, 2017.
Article continues below advertisement
Why truckers aren't happy about the ELD
The ELD has the potential to impact truck drivers' compensations, work hours, privacy, and flexibility. The FMCSA requires truck drivers to work within the legal limits of 55 hours per week, which will restrict drivers from expanding their weekly earnings. When drivers have to stick to their planned weekly logging hours, it will reduce their work flexibility. It will also affect their privacy since they will have to meet shippers' expectations.
Second, there is the cost of the ELD device and its installation. One ELD costs ~$500. In addition, truckers (WERN) will have to bear the monthly fee for the ELD subscription and maintenance. However, since the FMCSA is allowing use of the ELD mobile app (application), these costs may be curtailed.
Third, the ELD can create service issues for truckers (ODFL). At times, truckers go beyond the normal weekly legal hours to meet the high demands of shippers. The ELD could negatively impact the management of time-sensitive deliveries. Drivers could possibly resort to speeding or trace-passing to cover up the time lost while meeting delivery deadlines.
How will the industry be impacted?
Not all drivers like being observed and monitored. Fundamentally, truck driving is not a machine type of job. There are fears that some drivers might feel that ELDs are intruding on their privacy, and as a result, they might switch professions. That could aggravate the problems of the trucking (SAIA) industry, which is already grappling with a driver shortage.
The ELD compliance costs are an additional burden for truckers. In addition, indirect costs related to capacity and productivity loss will add to the total operating costs. Truckers could possibly feel forced to raise their shipping rates. Higher rates could potentially result in customers switching to other low-cost transportation options. The ELD is not a welcome mandate for many in the trucking (XTN) (JBHT) industry.
Next, let's see how Tesla Motors' newly launched all-electric semi truck could disrupt the US trucking industry.