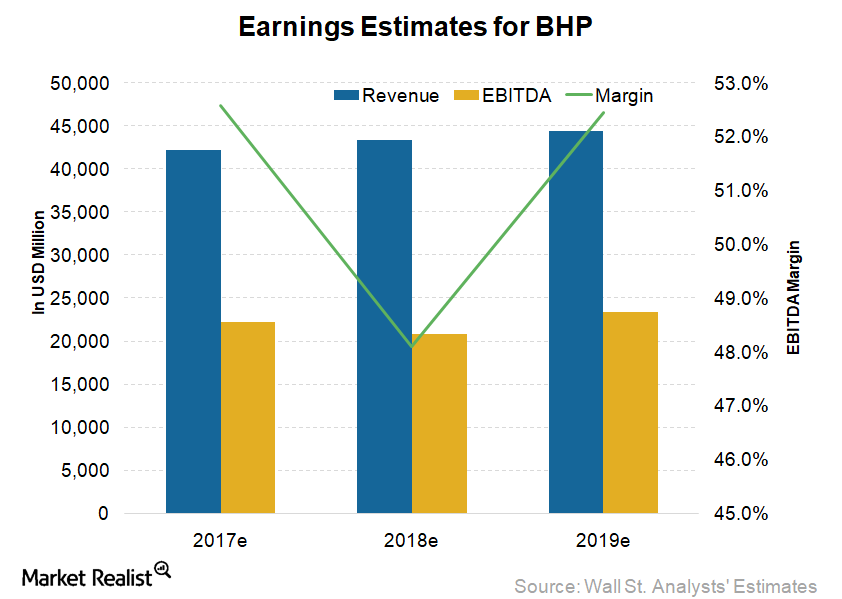 What's Driving Analysts' Bullish Estimates for BHP for 2018?
Cost-cutting and focus on returns
In a press release put out on November 28, BHP (BHP) vowed to cut costs by another 10% for its Australian operations. It's targeting 2.2 billion Australian dollars (~$1.6 billion US) in productivity gains over the next two years. Weighing in on the outlook for commodities (USCI), the company stated that the prices of iron ore and metallurgical coal could rebound before February 2017 as buyers look to replenish stocks. BHP also plans to improve returns by driving performance. It's targeting a return on capital employed of ~30% by fiscal 2022.
In this part of our series, we'll discuss analysts' estimates for BHP's revenues and earnings. These variables help gauge market sentiment for the company and how it's been progressing.
Article continues below advertisement
Revenue estimates
Wall Street analysts forecast that BHP (BHP) will achieve revenues of $42.2 billion in fiscal 2018 (the fiscal year ending June 30, 2018), reflecting impressive growth of 10.2% year-over-year (or YoY). The company's actual revenues for fiscal 2017 had grown 24% YoY. Future growth in revenues is mainly expected to be driven by a rise in commodity prices, especially iron ore, coal, and copper. The forecasted growth for fiscal 2019 and fiscal 2020 is 2.9% and 2.5%, respectively.
EBITDA estimates
According to the forecast compiled by Thomson Reuters, BHP's fiscal 2018 EBITDA (earnings before interest, tax, depreciation, and amortization) is ~$22.2 billion, which implies an EBITDA margin of 52.6%—similar to the actual 53.0% margin achieved in fiscal 2017. The EBITDA is expected to grow 9.3% YoY in fiscal 2018. Note that this expected growth in EBITDA is lower than the 10.2% growth expected in revenues—probably due to higher expected costs by analysts in fiscal 2018. The EBITDA estimate for fiscal 2019 is still lower at $20.8 billion, implying a margin of 48.1%.
Mining giants Glencore International (GLNCY), Southern Copper (SCCO), Teck Resources (TCK), and Freeport-McMoRan (FCX) have also seen their estimates revised slightly upward due to recent strength in commodity prices.