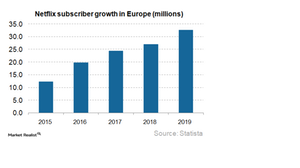 How Disney's Recent Decision Could Impact Netflix
Strong ties with Disney
Netflix (NFLX) stock fell more than 4% in post-market trading on August 8, 2017. That came after Disney (DIS) said it will start its own streaming business in 2019 and pull its movies from Netflix's program list by the end of 2018.
US subscribers can watch Disney content until 2019. According to Netflix, Disney won't remove its popular shows based on The Defenders or Marvel characters Daredevil, Luke Cage, and Jessica Jones.
Article continues below advertisement
In 2012, Netflix entered into a content partnership with Disney (including its subsidiaries Pixar, Marvel, and Lucasfilm) after the company failed to negotiate a contract renewal agreement with Starz (STRZA). The financial terms of the deal weren't revealed, but according to a Wedbush Securities analyst, Netflix paid $300 million per year to Disney. Netflix viewers have been able to watch Disney movies since 2016.
Impact of Disney's video streaming launch
After a four-year partnership with Netflix, Disney has decided to step into the lucrative video streaming business, which will further ramp up competition for Netflix. Disney has a strong family movie content, so removing that from Netflix's program list could impact Netflix's subscriber base.
Netflix's series based on Marvel characters have already gained popularity. For now, Netflix will keep those rights, but Disney could put restrictions on shows based on Marvel characters if its streaming business is successful. Disney could also charge huge licensing fees, which would impact Netflix's margins.
On the flip side, Disney's content isn't as available in international markets, so the impact on Netflix in those markets could be moderate. The chart above shows the international subscriber growth over the last five quarters. The cost of Disney's content is ~4% of Netflix's total content cost, so any change in price could have an impact.