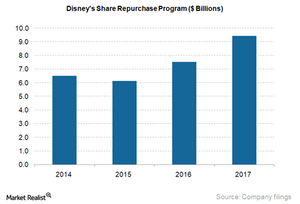 Disney Aims for $6 Billion Share Repurchase in Fiscal 2018
Share repurchase trends
The Walt Disney Company (DIS) continues to boost shareholders' wealth through huge share buybacks. The company aims to buy stock worth $6 billion in fiscal 2018, the same rate at which it has been purchasing shares for the last five years.
In 4Q17, the company bought 33.6 million shares for $3.4 billion, and in fiscal 2017, it spent ~$9.4 billion to buy back 89.5 million shares. On average, the company has bought ~30 million shares every quarter.
Article continues below advertisement
Factors influencing buybacks
As shown in the graph above, in the last four years, the company has returned an average of ~$7.5 billion every year to its shareholders through share buybacks alone. Lower debt levels and healthy free cash flow have allowed the company to maintain a strong share repurchase program.
In fiscal 2017, the company's free cash flow was $8.7 billion. In the last four years, the company has maintained average free cash flow of ~$7.6 billion. Its debt-to-equity ratio of 0.55x is lower than Comcast's (CMCSA) and Viacom's (VIAB) ratios of 1.1x and 2.1x, respectively. The lower ratio indicates that the company has lower leverage, which benefits its free cash flow.
Comcast bought back shares worth $5 billion in 2016, and is aiming for the same amount in 2017. In comparison, peer Time Warner (TWX) has purchased shares worth $2.1 billion in the last three quarters.