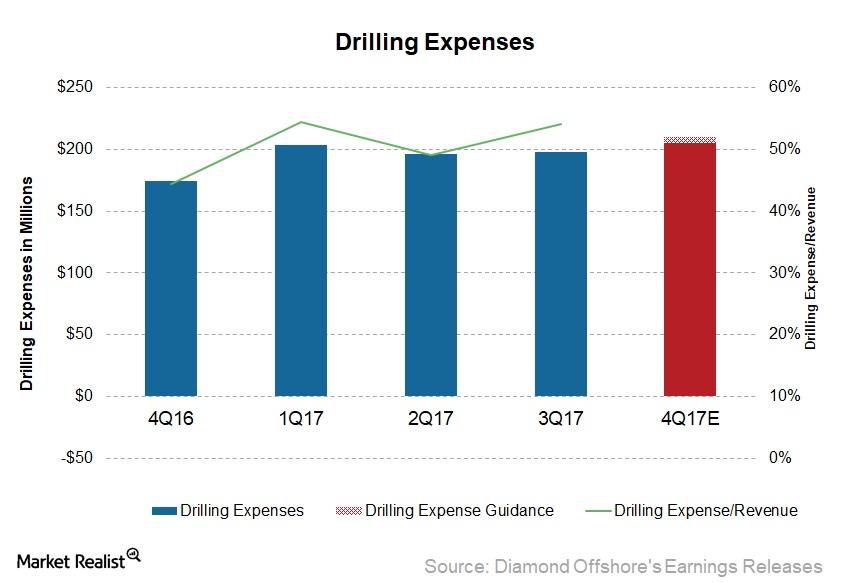 Diamond Offshore Drilling Gives 4Q17 Cost Guidance
3Q17 drilling expenses and 4Q17 guidance
In 3Q17, Diamond Offshore Drilling's (DO) drilling expenses rose 1% from the previous quarter and 6% from the prior year.
Here are some noteworthy takeaways from the company's earnings announcement:
In 3Q17, Diamond Offshore's expenses of $198 million were in line with the guided range of $200 million.
The 6% year-over-year rise in drilling expenses was a result of incremental expenses for Ocean Great White, which began operations in 1Q17, and Ocean BlackRhino and Ocean Scepter, which began operations in 3Q17. The increase in expenses was partially offset by a reduction in rig operating expenses and overhead costs, as one rig was cold stacked and six rigs were retired.
Diamond Offshore expects its operating costs in the fourth quarter to be $205 million–$210 million. The increase in costs quarter-over-quarter is mainly due to a special survey and an upgrade planned for Ocean Patriot. Historically, the company has expensed special survey costs and plans to do the same going forward. The company has also planned the mobilization of two rigs, which could add to its expenses.
Article continues below advertisement
General and administrative expenses
Diamond Offshore's general and administrative expenses for 3Q17 were $17.8 million. That's a 6% fall from the previous quarter's expenses of $19.0 million and a 17% rise from 3Q16 expenses of $15.2 million. The company expects its 4Q17 general and administrative costs to be $17 million–$19 million, which is similar to its recent run rate.