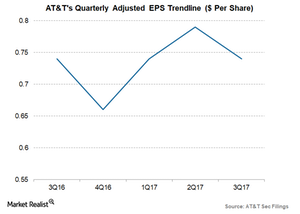 What Dented AT&T's Earnings and Revenues in 3Q17?
Key insights from Q3 results
AT&T (T) disappointed investors with dismal 3Q17 quarterly earnings results on October 24. The telecom giant posted adjusted EPS of $0.74 in 3Q17, almost in-line with 3Q16 results but $0.01 below the consensus. Revenues of $39.7 billion were also below the consensus estimate by about $450 million and were 3.0% lower YoY (year-over-year) from 3Q16. The Gulf hurricanes and the Mexico earthquakes adversely impacted earnings in the quarter.
Article continues below advertisement
Reasons for AT&T's underperformance
However, the most obvious reasons for the underperformance were a significant decline in net additions of its postpaid wireless subscribers as well as a decline in video subscriptions. While AT&T's postpaid connections were down 44.8%, prepaid connections were up 6.6% during the quarter. The company also gained 296,000 DIRECTV NOW connections in the reported quarter but lost 251,000 satellite TV customers and 134,000 U-verse TV customers.
AT&T is the second largest wireless service provider in the US (SPY) and one of the dominant players among communications service carriers. However, over the last few quarters, the telecom giant has been reeling under pressure due to the declining rate of postpaid wireless subscribers in the domestic market as well as competition from rivals like T-Mobile (TMUS) and Sprint (S). The unlimited data offering plans started by the smaller firms like T-Mobile and Sprint are denting the market share of Verizon (VZ) and AT&T. The intense competition in the Internet space has pressured the company big time, which is evident in AT&T stock's fall of more than 13% in October and around 17% on a year-to-date basis as of November 9.