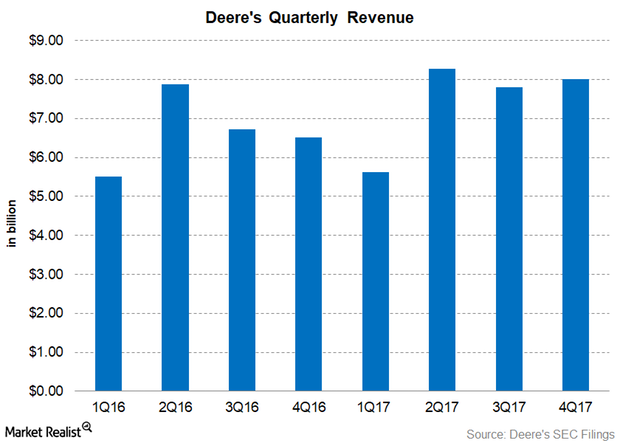 Deere's Fiscal 4Q17 Revenue Rises Thanks to Higher Volumes
Deere's fiscal 4Q17 revenue
In fiscal 4Q17, Deere (DE) saw total revenue of $8.0 billion, inclusive of financial services and other revenue, implying a 23.0% rise from 4Q16, when it had revenue of $6.5 billion. Excluding financial services and other revenue, DE's net sales for 4Q17 were $7.1 billion, compared with $5.7 billion in fiscal 4Q16, a 25.5% rise year-over-year.
Deere's revenue growth was primarily driven by higher volumes thanks to higher demand for farm equipment in South America. Also, the construction segment witnessed significant growth due to higher shipments. We'll discuss each segment in the upcoming parts of this series.
Article continues below advertisement
Furthermore, DE's revenue was helped by favorable foreign currency hedging and price increases. Deere chairman and CEO Samuel R. Allen stated that "we saw higher overall demand for our products with farm machinery sales in South America making especially strong gains and construction equipment sales rising sharply. At the same time, the company realized continued benefits from its broad product portfolio and agile cost structure. As a result, Deere has remained well-positioned to serve present customers while making investments aimed at driving growth and attracting additional customers in the future."
Outlook
In fiscal 2018, DE expects revenue to rise 19%, driven by equipment sales, which are projected to grow 22%. Furthermore, DE's currency hedging strategy is expected to improve revenue by approximately 2%. The biggest driver is expected to be the Wirtgen Group acquisition, which is set to be completed in December 2017. The acquisition is expected to add $3.1 billion in revenue in fiscal 2018.
Investors looking for exposure to DE could opt for the iShares MSCI Global Agriculture Producers ETF (VEGI), which has invested 10.7% of its portfolio in Deere. The fund also provides exposure to Monsanto (MON), PotashCorp (POT), and FMC (FMC), of 14.3%, 4.4%, and 3.5%, respectively.