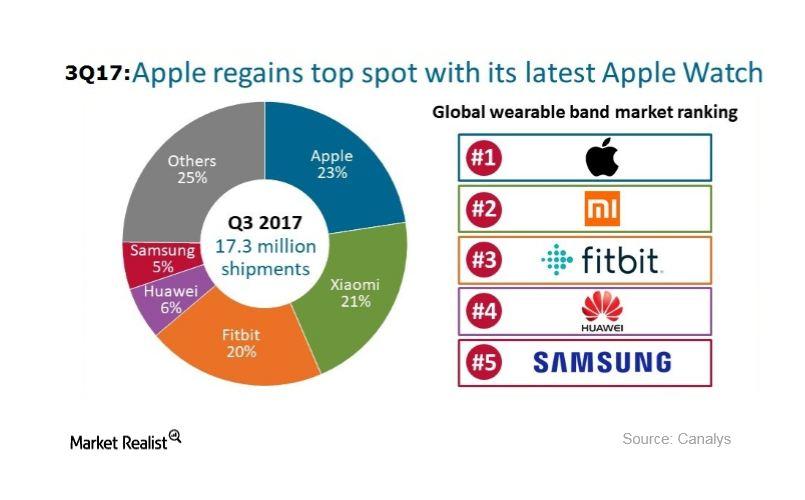 The Deeper Meaning behind Fitbit's 3Q17 Scorecard
US market turned positive in 3Q17
Fitbit (FIT) generates the majority of its revenues in the US (SPY). In 3Q17, 62.1% of its total revenues came from the US, compared with 56.4% of total revenues from the US in 2Q17. US sales rose 23% YoY (year-over-year) to $244 million in 3Q17, indicating a sharp reversal from 2Q17, when US sales fell 55% YoY.
Since the US supplies the bulk of Fitbit's revenues, the growth in US sales in the latest quarter could be credited for the 11.3% sequential increase in Fitbit's revenue in 3Q17.
Fitbit's US sales might have increased much faster in 3Q17, if it hadn't been for a problem that the company faced with a key distributor in the US. According to Fitbit, its largest distributor in the US filed for bankruptcy, which resulted in a revenue loss of $8.0 million in 3Q17.
Article continues below advertisement
Fitbit retains pricing power despite tough competition
Fitbit has recently been shown to be losing wearable device market share to rivals Apple (AAPL), Samsung (SSNLF), and China-based (MCHI) Xiaomi and Huawei. According to Canalys Research, Fitbit's share of the wearable device market was 20% in 3Q17, compared with Xiaomi's 21% and Apple's 23%. Just a few years ago, Fitbit was leading the pack in the wearable device vendor market.
Despite its loss of market share, Fitbit has still been able to get customers to pay more for its products. The company's ASP (average selling price) rose to $104.72 per device in 3Q17, compared with $100.76 in 2Q17. Its ASP increased 12% YoY in the latest quarter, which was much steeper than the 2.0% YoY rise it recorded in the prior quarter and the 11% YoY increase it recorded in 3Q16.
New products contributing positively
Meanwhile, Fitbit's investment in new products appears to be starting to bear fruit. New products introduced over the past year accounted for 32% of total revenues in 3Q17. New products were also a major top-line driver in 2Q17, contributing 81% of total revenues.