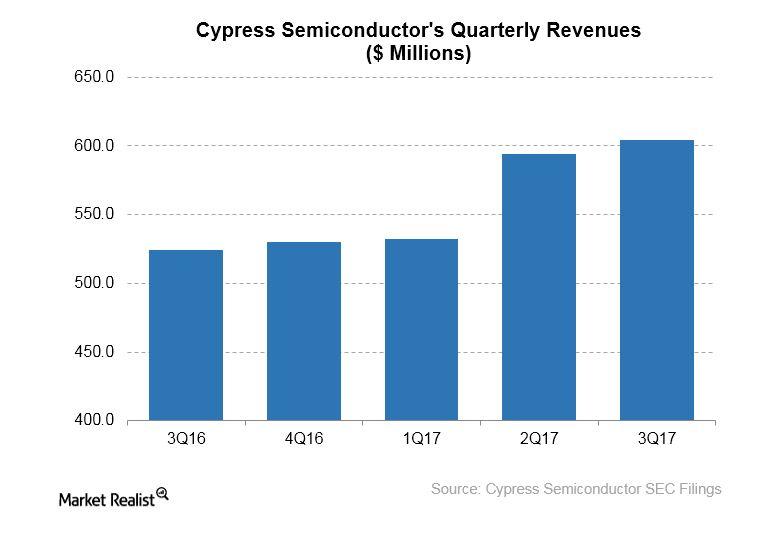 How Cypress Semiconductor Posted Record Revenues in 3Q17
Strong product uptake in IoT market
US-based (SPY) embedded chipmaker Cypress Semiconductor (CY) reported record revenues in 3Q17, supported by expanding bill-of-material coverage. Cypress Semiconductor noted that ~80% of the revenues it generated in 3Q17 came through customers purchasing more than one product family.
Continued strong sales to the IoT (Internet of Things) market also supported the company's top-line gains in 3Q17. The company noted that IoT wireless connectivity grew 80% YoY (year-over-year) in 3Q17.
Cypress Semiconductor reported revenues of $604.6 million in 3Q17, implying that its top line grew 14.0% YoY. Its revenue also surpassed the consensus estimate by more than $2.0 million.
Article continues below advertisement
Cypress Semiconductor's industry peers
Cypress Semiconductor's (CY) industry peers Intel (INTC) and NXP Semiconductors (NXPI) reported revenue growth of 6.0% YoY and fell 3.2% YoY, respectively, in 3Q17.
Chipmakers Microchip Technology (MCHP) and Maxim Integrated Products (MXIM) reported revenue growth of 16.2% and 3.0% YoY, respectively, in their quarters comparable to Cypress Semiconductor's 3Q17.
Cypress 3.0 strategy
Cypress Semiconductor's embedded systems are used in automotive, medical, industrial, home automation, and consumer electronic products. The company is currently executing a growth program that the management refers to as its Cypress 3.0 strategy.
Under this program, Cypress Semiconductor is working to increase its share of the chip markets that are growing faster than the overall semiconductor industry.