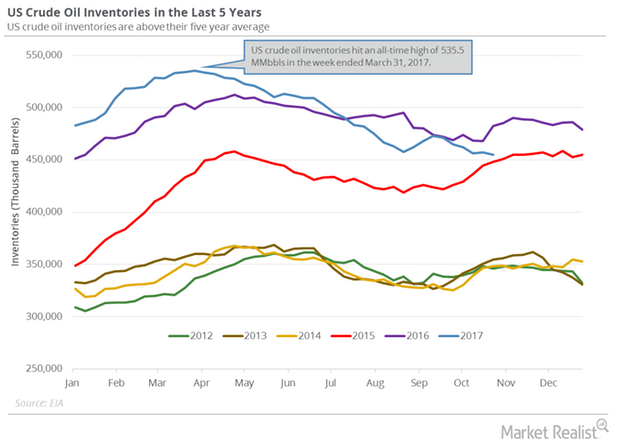 Crude Oil Futures: Is $70 per Barrel Coming?
Crude oil futures  
Article continues below advertisement
Brent and WTI crude oil price performance in October  
Brent and US crude oil spot prices averaged $58 per barrel and $52 per barrel in October 2017. Both benchmarks traded 1.8% and 2% higher than the average in September 2017. Some experts think that oil prices could hit $70 per barrel in the medium term.
Hopes of prolonging the production cut deal by nine more months, improving crude oil demand from the US, China, and India, and lower crude oil and product inventories could drive oil prices higher. The bullish sentiments could also drive oil (BNO) (DBO) (USL) prices higher. Some technical analysts think that geopolitical tensions could drive oil prices higher. However, some technical analysts think that crude oil futures are overbought, which suggests that prices could fall from here.
Oil majors like Shell (RDS.A) and Statoil (STO) forecast that crude oil demand could hit a high by 2025 or 2030. However, ExxonMobil (XOM) and Chevron (CVX) suggest that the demand could slowly test the highs.
Wall Street 
The Dow Jones Industrial Average Index (DIA) rose 0.12% to 23,557.23 on November 7, 2017. However, the NASDAQ (QQQ) fell 0.3% to 6,767.78 on the same day. The S&P 500 (SPY) fell 0.02% to 2,590.64 on November 7, 2017.
The S&P 500 rose 24.24% in the last 12 months. The IT (XLK) (VGT), financials (XLF) (VFH), materials (XLB), and industrials (XLI) (ITA) sectors helped SPY in the last 12 months.
US crude oil inventories 
On November 7, 2017, the API (American Petroleum Institute) released its weekly crude oil inventory report. In this series, we'll discuss the API's crude, gasoline, and distillate inventory data. We'll also discuss the US gasoline demand as well as Russian and US crude oil production and exports.