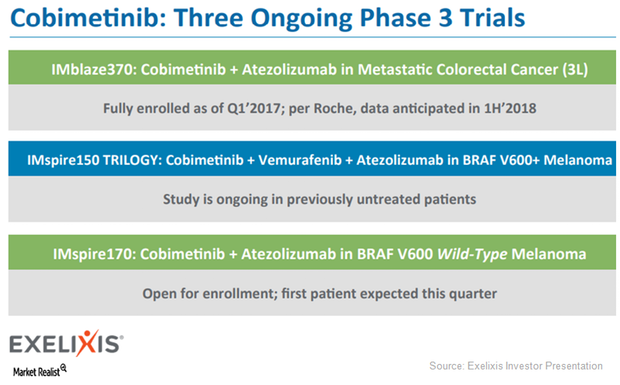 Gauging Exelixis's High Hopes for Cotellic
By Margaret Patrick

Nov. 23 2017, Updated 7:31 a.m. ET
Cotellic's FDA approval
On November 10, 2015, the FDA (US Food and Drug Administration) approved Exelixis's (EXEL) Cotellic (cobimetinib) in combination with Roche Holdings' (RHHBY) Zelboraf (vemurafenib) as a treatment option for patients suffering from BRAF-V600 mutation-positive advanced melanoma that cannot be treated through surgery. This regimen also secured approval from the European Commission on November 25, 2015.
To expand Cotellic's label, these companies are involved in three phase-3 studies evaluating the drug for multiple indications.
Notably, Exelixis makes up about 0.21% of the Vanguard Health Care ETF's (VHT) total portfolio holdings.
Article continues below advertisement
Research programs
Exelixis and Roche Holdings are exploring the combination of Cotellic and Tecentriq (atezolizumab) for the treatment of third-line colorectal cancer in the phase-3 IMblaze 370 trial. The results from this trial are expected in 1H18.
In the IMspire150 trial (also known as Trilogy), Cotellic is being studied in combination with vemurafenib and atezolizumab for the treatment of first-line BRAF, mutant-positive, locally advanced metastatic melanoma.
The Cotellic-atezolizumab combination will also be compared with Merck's (MRK) Keytruda in the ongoing phase-3 IMspire170 trial for the treatment of first-line BRAF, wild-type metastatic melanoma.
Operating expenses
Exelixis has projected that its 2017 operating expenses to fall $285 million–$295 million. Wall Street analysts have projected that Exelixis's 2017 R&D (research and development) expenses will be ~$114.8 million, which would represent a YoY (year-over-year) rise of ~19.6%. Exelixis's SG&A (selling, general, and administrative) expenses are projected to be close to $158.4 million for fiscal 2017.
Peers Pfizer (PFE) and Bristol-Myers Squibb are expected to report R&D expenses of $7.7 billion and $4.9 billion, respectively. Pfizer and Bristol-Myers Squibb are also expected to report SG&A expenses of ~$14.3 billion and $4.6 billion, respectively, for fiscal 2017.