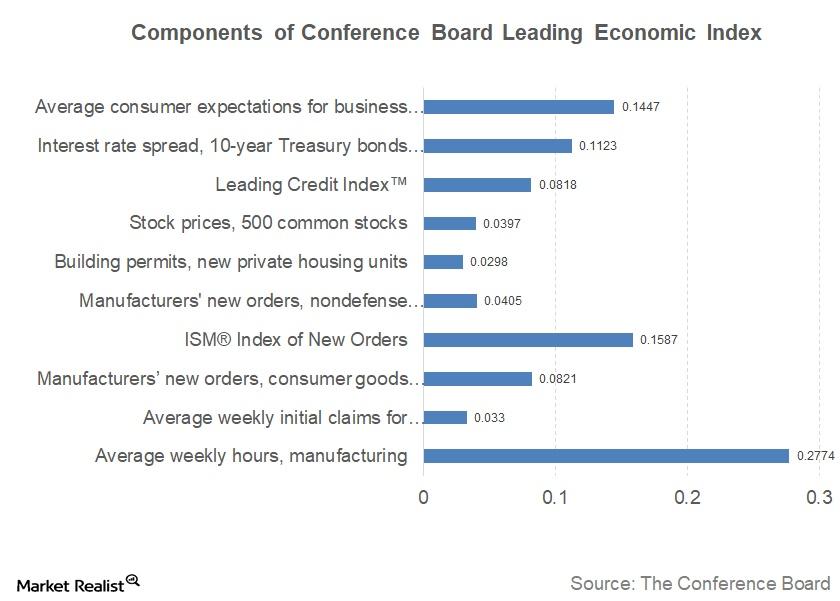 The Conference Board Leading Economic Index and Why We Track It
The Conference Board Leading Economic Index
The Conference Board is one of the most followed business indicators in the financial world. There are three major business cycle indicators that are published by this institute every month.
The Leading Economic Index (or LEI), Coincident Economic Index (or CEI), and Lagging Economic Index (or LAG) help investors have a better sense of the health of the US economy and be prepared for expected disruptions to the business cycles.
In this series, we'll discuss the Leading Economic Index (or LEI), the most followed index issued by the Conference Board. This index is constructed by using an economic model that uses ten economic indicators that have been standardized to smoothen volatility.
Article continues below advertisement
Importance of the Leading Economic Index
The LEI enjoys the best track record of predicting changes to the US business cycle, which explains its popularity among the investing community. The components used in constructing the index are all forward-looking leading indicators. Leading indicators, to an extent, can help predict changes to a sector or an industry.
Let's consider the average consumer expectations for business, which is one of the components of the LEI. Changes in consumer expectations for business can help understand the near-term economic prospects. Declining consumer expectations could mean a near-term drop in demand and a possible contraction in the economy.
Latest reading and series overview
The October 2017 reading for the Conference Board LEI was released on November 20. The LEI rose 2.9% in the six-month period ended in October 2017. The October LEI rose 1.2% to 130.4 (2010=100) from 128.6 in September.
All but one of its ten components increased in October. The component that declined in October was the manufacturer's new orders for non-defense capital goods (VIS) excluding aircraft.
Throughout this series, we'll analyze each component of the Conference Board LEI. We'll assess the implications for different sectors, including consumer discretionary (XLY), industrials (XLI), housing (XHB), and the overall markets (SPY).