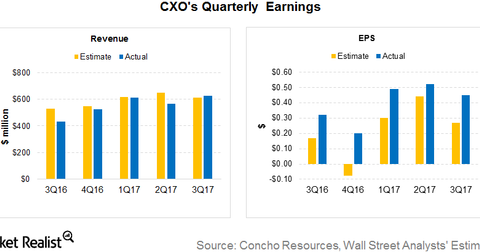 Concho Resources Reports Upbeat 3Q17 Earnings and Revenues
By Keisha Bandz

Updated
Concho's 3Q17 revenue
On November 1, 2017, Concho Resources (CXO) held its 3Q17 earnings conference call. It released its 3Q17 earnings the previous day after markets closed.
CXO reported revenues of $627.0 million, compared with the analysts' estimate of $611.1 million. In 3Q16, CXO reported revenues of $430.5 million, and in 2Q17, CXO's revenues totaled $567.0 million.
Its 3Q17 revenues were higher primarily due to higher oil and natural gas sales. CXO's oil sales in 3Q17 were $498 million, compared with $348 million in 3Q16. Natural gas sales totaled $129 million in 3Q17, compared with $82 million in 2Q16.
In 2Q17, oil sales had reached $461 million, while natural gas sales had totaled $106 million.
Concho's 3Q17 earnings
In 3Q17, Concho Resources reported adjusted EPS (earnings per share) of $0.45 in 3Q17, compared with the Wall Street analysts' consensus estimate of $0.27. CXO's EPS (earnings per share) in 3Q16 had been $0.32, while in 2Q17, it was $0.52.
CXO's EPS has been higher than the analysts' expectations for the past few quarters.
CXO's 3Q17 adjusted EPS excludes one-time charges, mostly related to a loss on derivatives of $206 million. Adding back these and other non-cash items, CXO's loss per share on a GAAP (generally accepted accounting principles) basis was -$0.77 per share in 3Q17. The corresponding loss per share on a GAAP basis in 3Q16 was -$0.38.
Peers Whiting Petroleum (WLL) and Anadarko Petroleum (APC) posted adjusted 3Q17 EPS of -$0.14 and -$0.77, respectively. For more, read How Whiting Petroleum Stock Reacted to 3Q17 Earnings Beat and Anadarko Petroleum's 3Q17 Earnings Miss Estimates, Again.