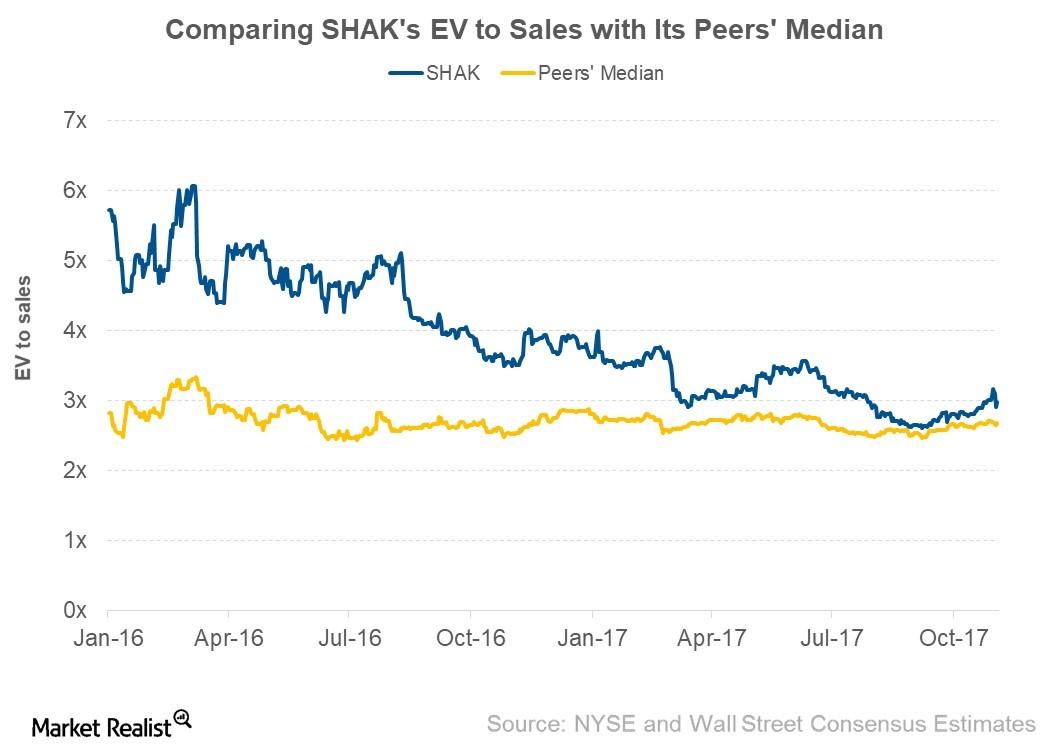 Comparing Shake Shack's Valuation
Valuation multiples
Shake Shack (SHAK) is in the growth phase of its business life cycle. During this stage, the company's operating expenses will be on the higher side, and earnings cannot be used to assess its valuation. Therefore, we'll use the forward EV[1.enterprise value]-to-sales multiple, which is calculated by dividing the company's stock price by analysts' sales estimates for the next four quarters.
Article continues below advertisement
SHAK's forward PE multiple
Despite having strong 3Q17 earnings, Shake Shack saw its stock price fall due to investors' concern that an aggressive expansion could lead to cannibalization of sales of existing restaurants, and also due to weakness in the broader equity market. As of November 3, 2017, Shake Shack was trading at a forward PE (price-to-earnings) multiple of 3.0x, compared with 3.2x before the announcement of its 3Q17 earnings.
On the same day, peers Chipotle Mexican Grill (CMG), Jack in the Box (JACK), and Wendy's (WEN) were trading at 1.5x, 2.7x, and 4.9x, respectively. Being a young company in a growth phase, Shake Shack has a huge scope to expand. This scope for expansion has allowed the company to trade at a forward EV-to-sales multiple higher than peers' median.
Growth prospects
Shake Shack is focusing on menu innovations and the implementation of digital advancements to drive its SSSG (same-store sales growth). The company has introduced chili, burgers, hotdogs, and fries, and has been investing in developing digital products to enhance guests' experience and personalize its connections with customers.
For the next four quarters, analysts expect the company's revenue to grow 27.6%, which may have been considered in the company's current stock price. If the abovementioned initiatives fail to generate the expected sales, selling pressure could bring the company's stock price and valuation multiple down. Next, we'll look at analysts' recommendations.