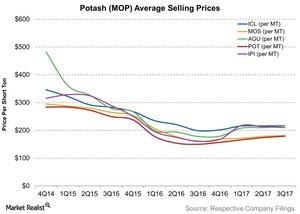 Potash Prices in 3Q17: A 5-Company Comparison
Potash prices rise
Potash price realizations for fertilizer companies were significantly higher YoY (year-over-year) in the third quarter of 2017. To put it in perspective, on average, potash prices for the companies we'll look at in this part were ~19% higher YoY.
Article continues below advertisement
Growth in prices
On average, Intrepid Potash (IPI) saw its realized prices rise 30% YoY. However, the company stated that its potash price realization was higher as a result of potash sales weighted toward industrial customers that command a higher price realization than agricultural customers.
The other companies primarily sell to agricultural customers, which may explain why Intrepid Potash's realized prices were higher than its peers (XLB). PotashCorp's (POT) average potash price rose 19%, which was pushed higher by North America. The North American market saw a 26% rise in potash prices compared to the company's international market in which prices rose 15% YoY.
We can see a similar pattern in Mosaic's (MOS) potash price realization for the quarter. On average, it saw a 14% rise YoY, which was pushed higher by a 22% rise in prices in North America. The international market saw its price rise 15% over the same period.
However, for Agrium (AGU), prices in North America rose just 13% YoY, while its price realization in the international market rose 16% YoY.
Among our group, Israel Chemicals (ICL) saw the weakest growth in price realization. The company has a high exposure to China and India, which would fall under international markets for the above companies.
Interpreting movements
China and India have been slow to make their potash purchases, which could be due to a poor visibility of potash price direction. However, the companies that have a strong penetration in North America remain in a beneficial position. Bear in mind that big producers such as Uralkali and Belaruskali are also active and have a strong presence in the international markets, thus putting more pressure on prices.
Next, we'll look at gross margins for the above companies' potash segments.