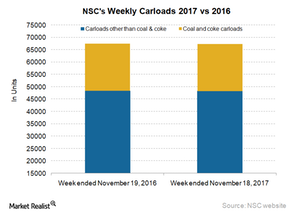 Comparing NSC's Carload Traffic in Week 46
By Samuel Prince

Updated
Week 46: NSC's carload traffic
The Eastern US rail freight market is dominated by Norfolk Southern (NSC) and CSX (CSX). In the week ended November 18, 2017, NSC's carload traffic fell very slightly by 0.2% to 67,400 units from 67,500 units in the week ended November 19, 2016. Norfolk Southern reported a much lower percentage fall in carload traffic than other US Class I railroads (XLI) in the 46th week of 2017.
Norfolk Southern's carloads, excluding coal and coke, fell 0.1% to ~48,300 units in Week 46 of 2017 from 48,300 units last year. These carloads accounted for ~72% of NSC's total carloads. The company witnessed a 0.3% loss in its coal and coke carloads, to 19,100 units. Coal and coke carloads' share stood at 28% in Week 46.
Article continues below advertisement
Commodity groups' ups and downs
These commodity groups posted volume gains in the 46th week:
chemicals (HUN)
crushed stone, sand, and gravel
metals and metal products
motor vehicles and equipment (TM)
petroleum products
These commodity groups posted volume losses in the 46th week:
food and kindred products
grain mill products
grain
pulp, paper, and allied products
stone, clay, and glass products
NSC's intermodal traffic in Week 46
In the 46th week of 2017, Norfolk Southern registered a 6.6% gain in intermodal traffic. The company moved ~84,000 trailers and containers, compared with ~78,800 units in the corresponding week of 2016.
Containers, accounting for 90% of NSC's intermodal volumes, reported 6% gains. In Week 46, the company's container volumes fell to 76,000 units from 71,600 units last year, while trailer traffic rose 12% to 8,000 units from ~7,200 units. In the next part, we'll review CSX's (CSX) volumes in Week 46.