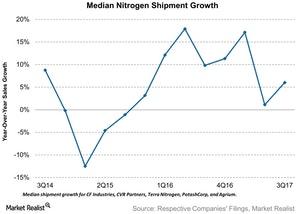 CF Industries' 3Q17 Nitrogen Shipments Compared to Peers
By Adam Jones

Updated
Nitrogen shipments
Nitrogen shipment growth for 3Q17 for the five companies we'll look at in this part was mixed YoY (year-over-year). On the one hand, supply pressures from China eased, but on the other hand, a good amount of nitrogen supply was added over the one-year period.
Article continues below advertisement
Overall shipments
Average shipments of nitrogen fertilizers for the five companies in the chart below rose 6% YoY in 3Q17. That fell from an average of 10% growth in 3Q16. Nitrogen shipments remained under pressure due to a weakness in demand and an abundance of the product in the market.
Shipments by company
Among the five companies in the above chart, CF Industries (CF) saw the steepest growth in nitrogen shipments in 3Q17. Shipments rose 33% YoY to 4.4 million metric tons. Shipment growth was 14% YoY in 3Q16. Growth in 3Q17 was due to additional production capacity added over the year.
Terra Nitrogen (TNH) also saw shipment growth of 11% YoY to 523,000 tons in 3Q17. Bear in mind that CF Industries has a 75% interest in Terra Nitrogen. According to Terra Nitrogen, more availability of the product due to added capacity and higher demand led to an increase in shipments.
CVR Partners' (UAN) shipment volume rose 6% YoY to 331,000 tons in 3Q17, while PotashCorp (POT) had a flat shipment of 1.6 million tons in 3Q17.
In contrast to the above companies, Agrium (AGU) had a 10% YoY decline in shipment volumes to 668,000 tons. Agrium's shipments declined due to lower availability of nitrogen products during the quarter.
Analyzing shipments
The excess supply (MXI) of nitrogen products continued to weigh negatively on the above participants. Companies that added new capacity are hoping to capture market share from the downfall of Chinese producers. However, they may move cautiously with that strategy since cheap energy costs can keep production abundant and realized prices low.