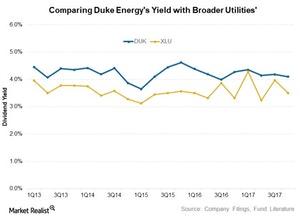 Comparing Duke Energy's Dividend Yield with Its Peers
Duke Energy's ex-dividend date
Duke Energy (DUK) declared a dividend of $0.89 per share for 4Q17. The ex-dividend date for the dividend is November 16, 2017. The dividend will be paid on December 18, 2017.
Duke Energy has a solid dividend payment history. It has paid a cash dividend for 91 consecutive years.
Article continues below advertisement
Dividend yield
Duke Energy is one of the top-yielding utilities among the S&P 500 Utilities Index (XLU). Currently, it's trading at a dividend yield of 4.1%—way higher than broader utilities' average dividend yield of 3.5%. It should be noted that Duke Energy's dividend yield has always been higher than its peers' average in the last five years. The yield is 170 basis points–200 basis points higher than broader markets (SPY) and ten-year Treasury yields.
Duke Energy's peer Southern Company (SO) offers a dividend yield of 4.5%, while Dominion Energy (D) yields ~3.8%. The largest utility by market capitalization, NextEra Energy (NEE) is trading at a dividend yield of 2.6%.
Dividend growth
Duke Energy's dividend profile looks relatively stable due to its earnings. It generates a large portion of its earnings from regulated operations, which enables stability and ultimately facilitates stable dividend payments. However, Duke Energy's dividend growth has been below the industry average in the last five years.
During this period, Duke Energy managed to increase its dividends per share 2.9% compounded annually. In comparison, broader utilities (XLU) (IDU) increased their dividend per share by an average 4.2% compounded annually during the same period.
Southern Company increased its dividends 3.4%, while NextEra Energy (NEE) increased its dividends 10.4% compounded annually in the last five years.