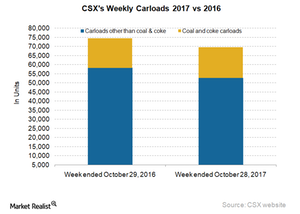 Comparing CSX's Shipments with Rival NSC in Week 43
Week 43: CSX's carloads
In the week ended October 28, 2017, Florida-based CSX's (CSX) carloads fell 6.6% YoY (year-over-year). The company moved ~69,500 railcars in the 43rd week of 2017, which was 4,900 fewer units than its 74,400 carloads during the 43rd week of 2016.
Carloads other than coal and coke contributed 75.6% to total railcar traffic, while coal and coke carloads totaled 24.4%. The 43rd week's volume loss was caused by reduced volumes of carloads excluding coal and coke.
These commodity groups' volumes reached ~53,000 units, compared with ~58,000 units in the same week last year. However, the week's coal and coke carloads rose 4.1% to ~17,000 units in 2017, compared with 16,300 the previous year.
CSX has reported lower YoY volume growth in 2017 than Norfolk Southern has reported and, in fact, has lagged behind the volume growth reported by all its class-I peers (IYJ) so far this year.
Article continues below advertisement
Ups and downs in commodity groups
The following commodity groups saw higher weekly volumes in the 43rd week:
primary metal products
lumber and wood products
iron and steel scrap
The following commodity groups registered volume losses during the same week:
CSX's intermodal traffic in 43rd week
In the 43rd week of 2017, CSX posted a marginal volume loss in intermodal. The company's intermodal traffic shrank 0.4% at 57,400 trailers and containers.
Containers dominated CSX's intermodal volumes, accounting for more than 95%, while trailers accounted for less than 5% of traffic. Container volumes fell 0.3% to ~55,000 units in the 43rd week of 2017, while trailer traffic fell 3%.
Next, we'll review freight volumes of the smallest US class-I railroad, Kansas City Southern (KSU).