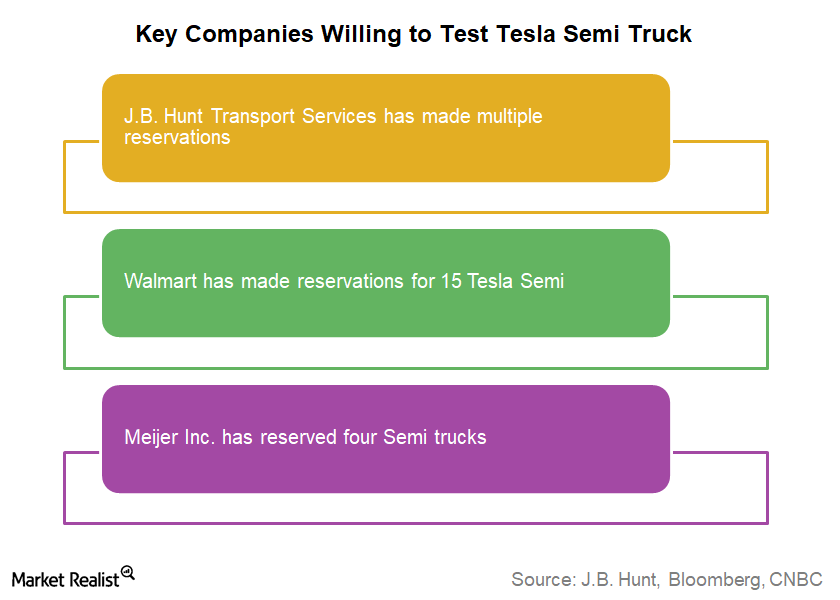 These Companies Are Ready to Try Tesla's Semi Truck
Tesla accepting reservations
In the previous part of this series, we looked at how Tesla bears reacted to Tesla Motors' (TSLA) recently launched electric semi truck. We also saw that many analysts still believe other automakers (XLY) such as General Motors (GM), Ford (F), and Fiat Chrysler (FCAU) are in a good position to take a risk on making huge investments in electric vehicles.
But Tesla is going forward and has begun accepting reservations for its semi truck with a deposit of $5,000. Despite some analysts' skepticism, some large companies have put their names on Tesla's reservation list. Let's take a look.
Article continues below advertisement
J.B. Hunt ready to try Tesla's semi
According to a press release by J.B. Hunt Transport Services, a freight shipping services giant, it has already made multiple reservations for Tesla's semi truck. J.B. Hunt said it "plans to deploy electric tractors to its Intermodal and Dedicated Contract Services divisions to support operations on the West Coast." J.B. Hunt's CEO (chief executive officer) John Roberts called the company's move to reserve the semi as "efforts to implement industry-changing technology" and believes the trucks "will be most beneficial on local and dray routes."
Wallmart is also ready
According to a CNBC report, Walmart (WMT), the world's largest retail company, has reserved 15 Tesla semi trucks. Ten of them will be used by Walmart's Canada division, and five will be tested in the United States.
The report added that Walmart could save at least $25,000 per semi every year if Tesla's estimates of being ~20% cheaper in operating costs than diesel trucks are true. Walmart currently has about 6,000 trucks in its fleet, the report added.
These are just some of the notable companies that have revealed their plans to test Tesla's semi so far. While these companies might not have reserved a large number of trucks, for now, it could reflect the future potential of electric trucks.