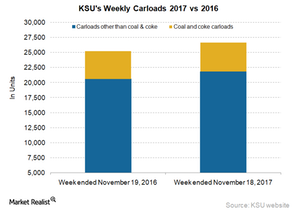 These Commodities Boosted Kansas City Southern's Carloads
By Samuel Prince

Updated
Kansas City Southern's carloads
Over the past few weeks, US-Mexico railroad Kansas City Southern (KSU) has seen higher freight volumes year-over-year. In the week ended November 18, 2017, KSU's carload traffic stood at 26,600 units, up 5.7% from the 25,200 units it reported in the week ended November 19, 2016. Whereas many US railroads reported volume losses, Kansas City Southern posted railcar volume gains in the 46th week of 2017.
The company's carloads, other than coal and coke, rose 5.9% to 21,800 units in Week 46 from 20,600 units in last year's corresponding week. Coal and coke carloads rose 4.9% to 4,800 units from 4,600 carloads in 2016. Carloads, excluding coal and coke, made up 82% of traffic, while coal and coke carloads made up 18% of traffic.
Commodity groups' ups and downs
These commodity groups posted volume gains in the 46th week:
pulp, paper, and allied products
chemicals and allied products (DOW)
petroleum products (UGAZ)
stone, clay, and glass products
iron and steel scrap
These commodity groups posted volume losses in the 46th week:
grain
grain mill products
food and kindred products
motor vehicles and equipment (TSLA)
metals and metal products
KSU's intermodal volumes
For Kansas City Southern, intermodal traffic accounted for 56% of total freight volumes. Intermodal volumes rose 8.3%, in line with carload growth, in the 46th week of 2017. That week, the company hauled around 21,000 containers and trailers, compared with 19,300 units in the same week last year.
In Week 46, KSU's container volumes rose 9.5% to 20,600 units from ~19,000 units last year. Trailer traffic rose ~20%, by 360 units. Including intermodal traffic, its overall freight volumes rose 6.8% in Week 46. Keep reading for a look at Canadian National Railway's (CNI) freight volumes.