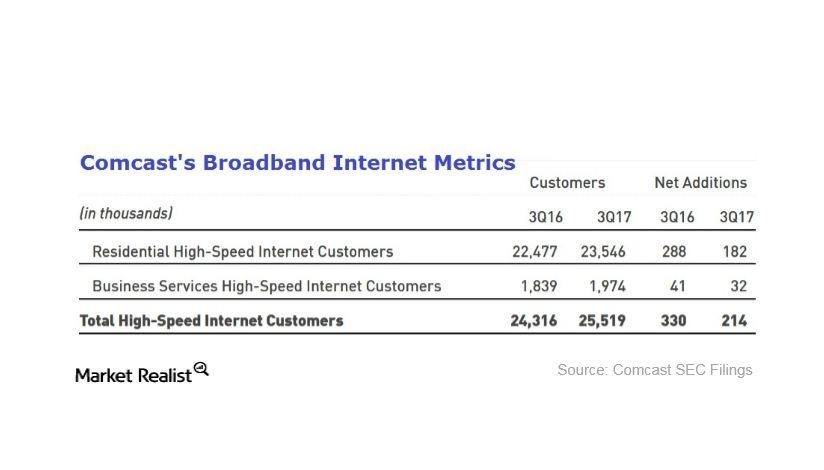 Why Is Comcast's Capital Expenditure Increasing?
Capital expenditure rose 1.2%
Comcast (CMCSA) has reported its 3Q17 results, which showed that its capital expenditure has risen 1.2% year-over-year to $2.4 billion. A significant portion of the capital budget in the quarter was spent in the company's Cable Communications division, which is comprised of businesses such as pay-TV and broadband Internet.
What drove up Comcast's capital expenditure in 3Q17? Comcast continued to invest in future growth, which seems to be responsible for the year-over-year increase in capital expenditure. For example, Comcast continued to invest in infrastructure to increase network capacity.
Article continues below advertisement
Comcast ready to defend broadband market share
By investing in network enhancement, Comcast hopes it will be able to improve customer experience and, in turn, be able to defend and extend its market share in lucrative but competitive areas such as broadband Internet.
During a conference call with analysts following the release of the 3Q17 results, Comcast CEO (chief executive officer) Brian Roberts was asked about the competitive threat from rival AT&T (T), which is expanding its fiber-Internet services into Comcast's footprint. Roberts replied that the company has long anticipated AT&T's move, suggesting that Comcast expects no surprises from its rival. Roberts went on to make this remark about competition: "Our view is to deliver the best product, period, and we will constantly increase speeds."
Growing demand for Internet videos
Comcast gained 214,000 new high-speed Internet customers in 3Q17. That helped raise its high-speed Internet revenue 8.9% year-over-year to more than $3.7 billion.
Investing to strengthen its high-speed Internet offering could better position Comcast to capitalize on the rise of Internet-based services such as those offered by Netflix (NFLX), Amazon (AMZN), and Sony (SNE).