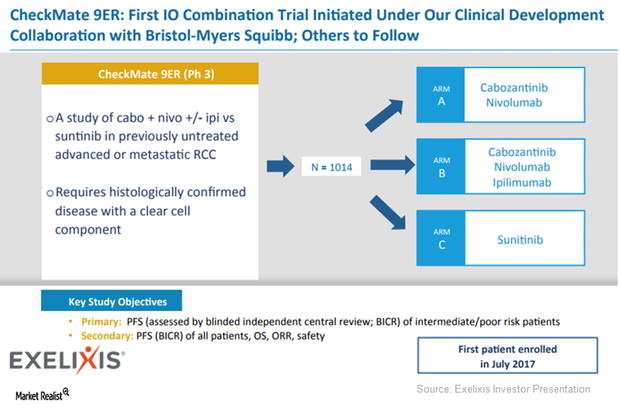 Inside Exelixis's Label Expansion Collaborations for Cabozantinib
Collaborations with Bristol-Myers Squibb
As a part of the broader lifecycle management for its Cabometyx (cabozantinib) franchise, Exelixis (EXEL) has focused on exploring the clinical efficacy of the drug in combination with other immune checkpoint inhibitors, including Bristol-Myers Squibb's (BMY) Opdivo (nivolumab) and Yervoy (ipilimumab) and Roche Holdings' (RHHBY) Tecentriq (atezolizumab).
In addition to Exelixis's research initiatives to position Cabometyx as a monotherapy for second-line HCC (hepatocellular carcinoma), the company is exploring the safety of cabozantinib in combination with nivolumab alone as well as with novolumab and ipilimumab in HCC patients as a part of its CheckMate-040 study.
Article continues below advertisement
Exelixis and Bristol-Myers Squibb also aim to study OS (overall survival) and PFS (progression-free survival) benefits of these combination regimens in HCC indications. While this is not a pivotal trial, it's expected to play an important role in expanding cabozantinib's label for first-line HCC going forward.
Exelixis and Bristol-Myers Squibb are also studying cabozantinib in combination with nivolumab alone or ipilimumab and nivolumab together for the treatment of first-line RCC (renal cell carcinoma). In this pivotal phase-3 CheckMate 9ER trial consisting of 1,000 test subjects, the cabozantinib-immune checkpoint inhibitor drug combinations will be compared with Pfizer's (PFE) Sutent (sunitinib) in some advanced RCC patients. The trial aims to study the benefits derived from using a cabometyx-based combination regimen in terms of PFS, OS, safety, and an objective response rate.
Notably, Exelixis makes up ~0.25% of the iShares Russell Mid-Cap Growth ETF's (IWP) total portfolio holdings.
Collaborations with Genentech-Roche
Exelixis and Roche Holdings are studying cabozantinib in combination with atezolizumab in phase-1 dose-ranging study started in early 2017. The companies then plan to explore this combination regimen in four settings, including first-line advanced RCC, second-line bladder cancer, and first-line bladder cancer, including all those patients who are eligible and ineligible for cisplatinum therapy.
In the next and final part of this series, we'll discuss cobimetinib's growth research programs in greater detail.