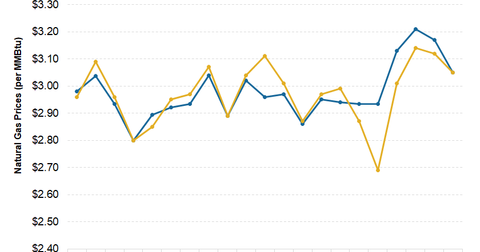 Coal Prices Remain Steady in Week Ended November 17
By Alexis Tate

Updated
Power River Basin coal prices
In the week ended November 17, 2017, PRB (Power River Basin) coal prices closed at $12.10 per short ton, the same price reported at the end of the previous week.
PRB produces sub-bituminous coal from surface mines, which make it a low-cost coal mining area. These coal reserves are located in Wyoming and Montana. Peabody Energy (BTU) and Arch Coal (ARCH) operate in the PRB region. Both companies exited from Chapter 11 bankruptcy protection in April 2017 and October 2016, respectively.
Article continues below advertisement
Illinois Basin coal prices
ILB (Illinois Basin) coal prices remained at $32.60 per short ton for the November 17 week. The price hasn't changed since the first week of October.
ILB coal is bituminous in nature and is mined from coal reserves in Ohio, Illinois, and western Kentucky. The coal is high in sulfur. Natural Resource Partners (NRP) and Alliance Resource Partners (ARLP) are the major coal (KOL) companies operating in this region.
Coal prices in the Appalachian region
In the week ended November 17, 2017, Central Appalachian coal prices stood at $59.85 per short ton, the same as in the previous week. The Appalachian mines produce coal with low sulfur content. However, the Appalachian region's mining techniques are more expensive than those of the other two regions. Most coal producers have moved their mining operations to the less expensive Illinois Basin. CNX Coal Resources (CNXC) still has coal mines in the region. Check out our Coal page for more news.