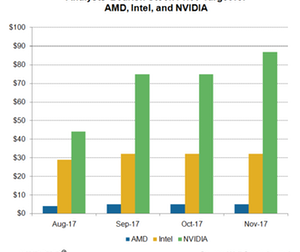 Why Citi Research Is Bearish on AMD
By Puja Tayal

Updated
Citi bearish on AMD
The year has been busy for Advanced Micro Devices (AMD), but now that AMD doesn't have many exciting products or other announcements for 2018, investors and analysts appear to have gone neutral on the stock.
Citi Research analyst Christopher Danely recently went bearish on AMD with a price target of $5 on the stock, which represents a downside of over 55% from its current trading price of above $11.0. Danely believes that AMD's new products are not profitable and won't withstand competition from Intel (INTC) and NVIDIA (NVDA).
Other analysts, including internet fund manager Tony Mitchell, have disagreed with Danely's analysis, however, and have presented counterarguments.
Article continues below advertisement
AMD's Ryzen versus Intel's Coffee Lake
According to a CNBC report, Christopher Danely stated that third-party reviews show Intel's eighth-generation Coffee Lake CPUs (central processing units) built on its third-generation 14 nm (nanometer) technology have outperformed AMD's Ryzen CPUs. But other analysts countered this statement, stating that although Intel's Coffee Lake overtakes AMD's Ryzen in terms of performance, the former is not compatible with existing Z270 and Z170 motherboards.
Users have to upgrade their motherboards to enjoy the true performance of the new Coffee Lake, and Intel's Coffee Lake is more expensive than AMD's Ryzen. This could negatively impact Coffee Lake's adoption and bode well for AMD's Ryzen.
Intel's new products not profitable
As for Danely's view of AMD's new products as unprofitable, Tony Mitchell has pointed out that AMD's fiscal 3Q17 earnings showed a 4-percentage-point YoY (year-over-year) rise in its gross and operating margins—despite its 18% YoY increase in operating expenses. These profits were driven by an increase in the ASP (average selling price) of its CPUs and GPUs (graphics processing units).
AMD's earnings poised to grow in future
Notably, AMD improved its profits in fiscal 3Q17 and projected 26% YoY growth in fiscal 4Q17 revenue, with ~20% YoY growth in fiscal 2017 revenues. (AMD is aiming to increase its earnings by gaining market share from rivals.)
AMD's Ryzen Mobile will also ramp up production in early 2018, enabling the company to gain market share in the high-end notebook segment of the PC market. AMD's EPYC server processor is also currently securing design wins from big cloud companies like Amazon.com (AMZN) and Baidu (BIDU). These design wins could increase its market share in the server CPU market in 2018.
AMD has meanwhile partnered with Intel to supply integrated GPUs for the latter's mobile PC platform. This will likely increase AMD's share in the overall GPU market as well.