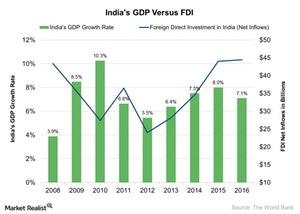 Why Chinese Investors Are Looking to India
China's investment in India
In June 2017, China's FDI (foreign direct investment) in India had soared to $1.7 billion, according to Indian government figures. However, Chinese investment (MCHI) in Indian companies could be five times more than this official figure.
Article continues below advertisement
World FDI
In 2016, India ranked 12 based on the FDI net inflows in the world, according to the World Bank's statistics report. Between 2013 and 2016, the FDI in India (INDA) rose continuously. Moreover, during this period, the Indian economy grew over 6%.
Indian economy in 2017
In the first two quarters of 2017, India's growth rate was over 5%. Based on the World Bank statistics report, the Indian economy could grow by 7.2% in 2017. In fact, in 2017, China's (FXI) (ASHR) economy could rise by 6.5%. Moreover, India ranked 100 compared to the previous rank of 130, in the World Bank's "Ease of Doing Business" list. This data was released on October 31, 2017. So, the robust economic growth and reforms in business regulations could increase FDI investment in India further.
Has the risk in Bitcoin investment risen? Continue to the next part to know James Gorman's view on this subject.